The rustic smell of pine trees, the crackling warmth of the fireplace, the joyful sounds of Burl Ives and Nat King Cole, the glistening sparkle of the string lights—these are all some of the wonderful things that make up the holiday season, and there's no feeling quite like the one you get when they're finally all around you. Of course, it takes quite a bit of hard work, patience, and creativity, but once it's up and done, it will all be well worth it!
Decorating for the holidays doesn't just stop at home, however. Each and every year, our spirited team of elves sprinkles some holiday magic around our tasting room, and we're excited to share that they've outdone themselves once again!
Check out the photos below (or come by our winery in person) to see how we're spreading holiday cheer this season at Eleven Eleven! In need of some inspo for your own home? Check out Country Living's "90+ Best Christmas Decoration Ideas for the Merriest Home on the Block" for the ultimate holiday decorating guide, from the tree to the kitchen, and all the way to the front door.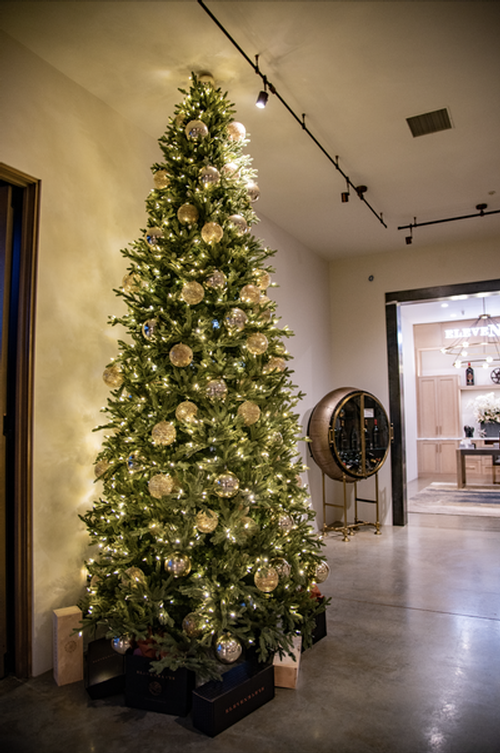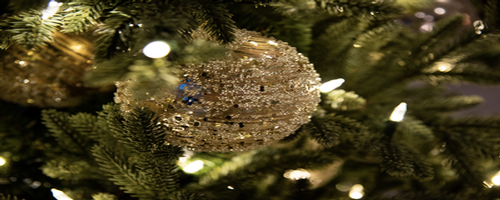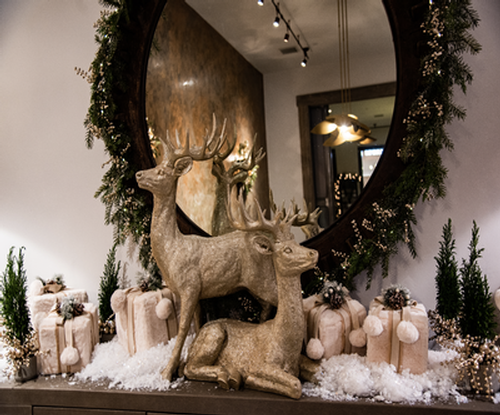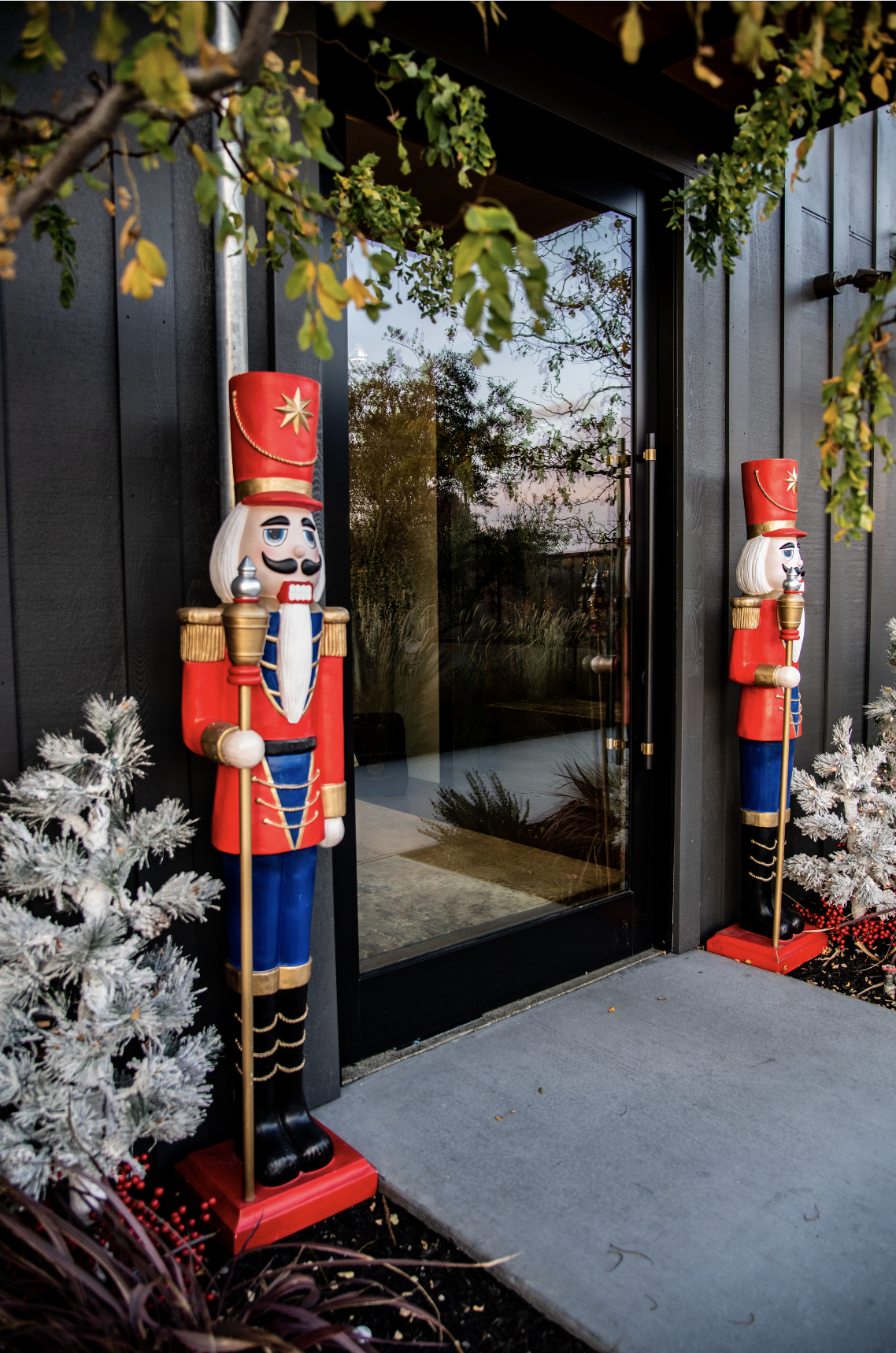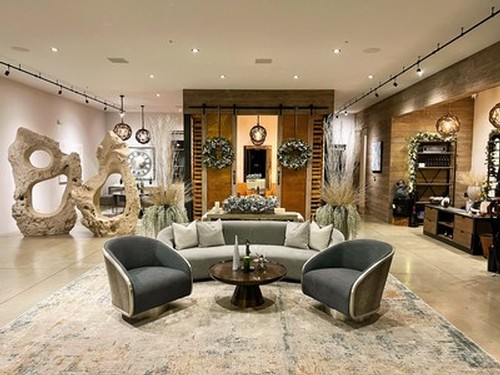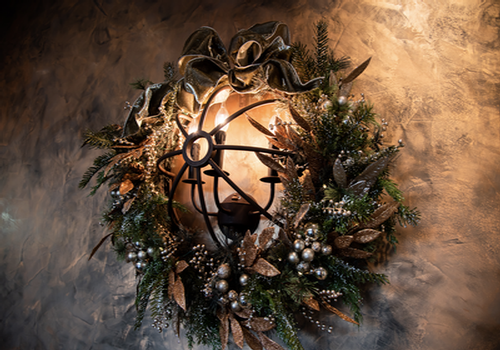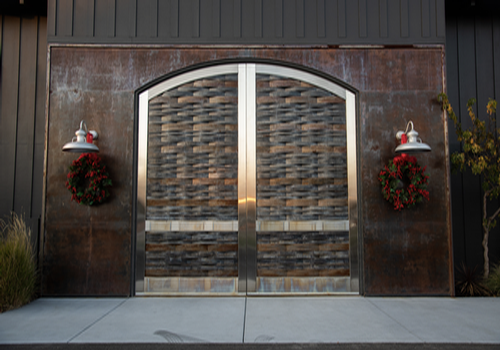 We wish you a happy holiday season full of festive decor, friendly cheer, and extraordinary moments all around. Whether you're near or far, we hope that you make Eleven Eleven Wines part of your celebrations. Cheers!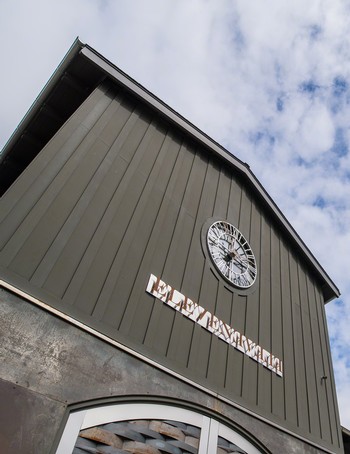 Part of the ethos of Eleven Eleven is about welcoming all people, and this is tied deep into the roots of our brand in more ways than one. There's an extraordinary word in the Greek language, "philoxenia,'' which is commonly used by Ellie Anest, one of our Co-Founders. The literal translation is "love of the foreign." This is about much more than a warm welcome. This word has additional layers of meaning not captured by its English equivalent: hospitality. It's not just "the act of being friendly and welcoming to guests and visitors." It's a code of values with deep roots stretching back to antiquity, one shaped in the ancient tradition of hospitality.
Philoxenia is a state of mind and a way of life with which Greeks nurtured over the centuries. In more recent times, many have applied its principles in business ventures that make up what we are today. Our overarching goal at Eleven Eleven is to create a positive and warm environment so that guests, employees, and business partners all feel a sense of home or an escape, layered with approachability and luxury with friendly hospitality.
But at the end of the day, we're not just passionate about wine and the guest experience (though those are certainly important!). We are equally ingrained in social responsibility and giving back to our community, and contributing to important causes that are near and dear to our hearts. We're so excited to highlight the organizations we make a point to contribute to each year and tell you a bit of why they have become such a priority within our team and our brand philosophy.
Diversity & Inclusion
Diversity and inclusion (D&I) are more than policies, programs, or headcounts. Having a working environment filled with employees of different backgrounds, skills, experiences, and knowledge means that we will have an increase in innovative and creative ideas and contribute to employee happiness.
Countless incredible institutions make this a priority and a few we make a point to contribute to are:
Health & Wellness
The riches of life truly are held in the health of our communities. By supporting health and wellness organizations, we can help people live healthier and happier lives.
Nutrition and Sports/Fitness
Cancer Research
Both Co-Founder Carol Vassilliadis and Ellie's immediate family have been struck by cancer. Research is crucial to improve the prevention, detection, and treatment of cancer, and to ensure that survivors live longer, higher quality lives. A few organizations we feel compelled to support annually are the Leukemia & Lymphoma Society, The V Foundation for Cancer Research, and Kids 'n' Cancer.
Local Community (NorCal & SoCal)
As entrepreneurs and vintners in the Napa Valley, it's our responsibility to support the local community when we can. Eleven Eleven exists today because of the many talents of supporters near and far. The local community has been so gracious and supportive. It is one of our core values to give back and want our local community to thrive alongside us.
Environment
The health of our environment no doubt plays an important role in healthy living and the existence of life on planet earth. Earth is a home for different living species, and we all are dependent on the environment for food, air, water, and other needs.
The ocean produces over half of the world's oxygen and absorbs 50 times more carbon dioxide than our atmosphere. As vintners, we depend on the environment, and our carbon footprint matters when crafting our wine. One Blue Ocean is a newer organization and a global social change non-profit that strives to ensure a healthy blue ocean. They, like us, believe our ocean is essential to all life and that people are the solution to make meaningful change. Their mission is to empower individuals to adopt ocean-positive habits and shift cultural behavior around the world—something we hope you can adopt in your daily life, too!
As we approach the closing of this year and the beginning of next, we hope that our story and ongoing projects will inspire you to incorporate a little more philoxenia into your lives and make each moment extraordinary.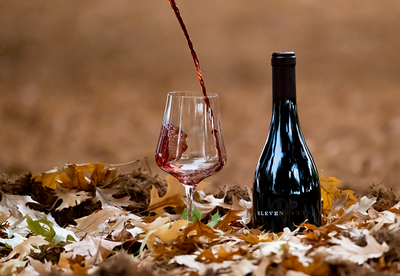 The days of fall sweaters, pumpkin spiced lattes, and hot apple cider are officially here, which means it's almost time for this season's first holiday—Halloween! Although celebrations this year may be limited from the usual get-togethers and wrangling of trick-or-treaters, there are still plenty of activities for you, your family, and friends to celebrate and get the most out of this spooktacular day. Better yet, we have the perfect Eleven Eleven wines to go with them!
Carving Pumpkins — Cabernet Sauvignon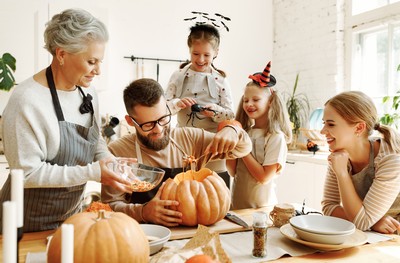 There's no Halloween symbol more iconic than the jack-o-lantern, and there's no seasonal tradition more fun and creative than making them yourself! Carving pumpkins is a sure-fire way to guarantee good times this holiday season, and there are endless ways to go about it. A simple triangle-eyed friendly face, an extravagantly detailed monster, or, for the artists out there, the glitz and glammed paint-on masterpiece. No matter your skill level, amateur or expert, it's more about the journey than the finished product, so just have some fun with it and get your Michelangelo on!
We recommend pairing this activity with our 2018 X∙I Cabernet Sauvignon. Just like the pumpkins you'll be carving, this wine displays approachability, yet simultaneously formidability, with all the heft and structure to last.
Making Caramel Apples — Sauvignon Blanc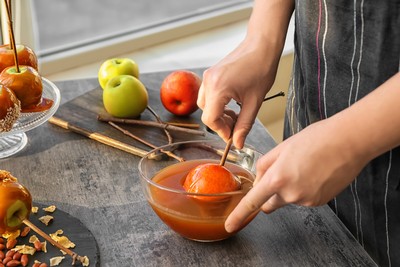 If you're like us, when we think of Halloween, we think of sugar! Sure, we always love a good Smarties packet or Snickers bar, but if you're in the mood to switch things up this year (because why stop now?), we have the most mouth-watering recommendation for you—homemade caramel apples. The crisp tartness of the apple covered by the gooey sweetness of the caramel is a combination that will have you on the edge of your seat for more, and it's easier to make than you'd think. Check out this Delish article for an easy step-by-step guide. It's a great activity to do not only during Halloweentime but also during the Fall in its entirety, so you can enjoy this delicious treat all season long!
To bring out the flavors even more, our suggested pairing is with our 2020 Beckstoffer Sauvignon Blanc. Awakening the senses with its flavors of crisp green apples, it will wonderfully complement your baking adventure.
Tell Scary Stories — Riesling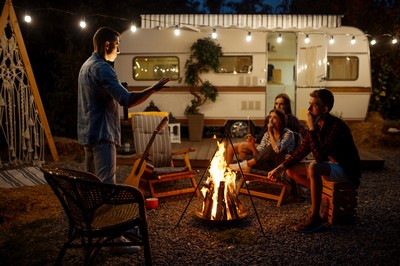 While this one's not for everyone, telling scary stories is a Halloween activity sure to get you right into the spooky spirit. If you don't have one your older brother used to torment you with as a kid to whip out of your pocket, check out these ideas to get the inspiration flowing and the heartbeat racing. These are best served around the campfire to add to the intensity (don't forget the flashlight!).
Have a glass of our enchanting and uplifting 2019 Destin Estate Carol's Song Riesling in hand for this activity to help soothe the nerves!
Have a Halloween Movie Marathon — Zinfandel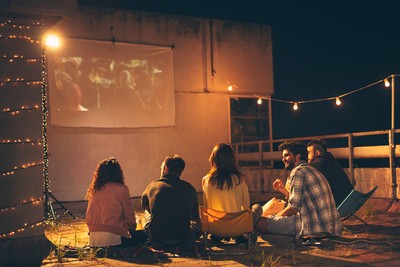 What better way to celebrate Halloween than on the big screen? From kid-friendly films like Halloweentown, It's a Great Pumpkin, Charlie Brown, and Twitches, to cult classic favorites like Hocus Pocus, The Rocky Horror Picture Show, Ghostbusters, and The Addams Family, and even (for the not-so-faint-at-heart) horrors like Carrie, The Shining, and A Nightmare on Elm Street, there's no better adventure than diving into mysterious realms of cinema!
Uncork a bottle of 2018 Moss Creek Old Vine Zinfandel for this relaxing (or not) night in. It's the perfect movie companion to keep those ghosts at bay... liquid courage, anyone?
DIY Halloween Costumes — Pinot Noir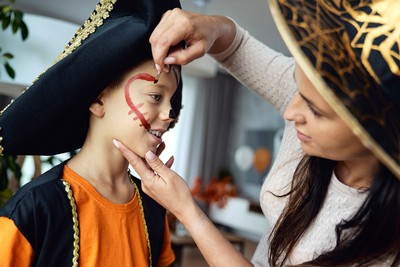 Last but not least, the best part about Halloween—costumes! While some of us like to go big or go home, dressing up for Halloween can also be as simple as it gets, and we always love to do it DIY-style. Fortunately, toilet paper is once again back in abundance this year (thanks, COVID), which means your go-to makeshift mummy costume is back on the table. Looking for less mess and clean-up (not to mention waste)? Go for the classic ghost made out of sheets. Feeling punny? Glue some Smarties onto your jeans, and you're a Smarty Pants! Put off gathering a costume until the last minute? We all know and love Jim from The Office's 3-hole punch self.
For this, you're going to want to make sure you're drinking something just as memorable as your costumes will be, like our 2018 Bacigalupi Pinot Noir. Enjoy its lingering flavors and aromas as you create your masterpiece ensembles!
Whether you plan to keep it a simple night in or go out galavanting around the neighborhood, we hope that you Make Your Moment® with us during this hair-raising, spine-chilling, teeth-rotting season and wish you all a very scary and safe Halloween!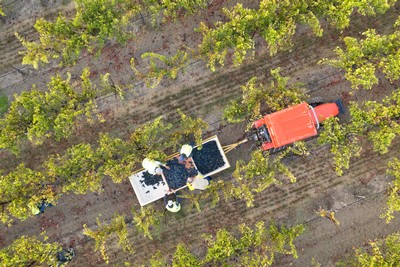 Eleven Eleven Wines was founded on a chance encounter. And while much of our origin was a series of similarly fateful events, every step of our journey thereafter has been thoughtfully taken to create a brand and wine portfolio that celebrates the everyday moments that make life extraordinary. This progression, however, would not be possible without the essential team members of the Eleven Eleven family—especially our incredibly hardworking and dynamic winemaking team.
From the pre-season brainstorming sessions to the long hours in the vineyards, and through all of the production stages, Winemaker Kirk Venge, Director of Winemaking & Operations, Brett Weis, and Cellar Master Edgar De Haro have become Eleven Eleven's ultimate powerhouse. As we get into the thick of harvest season, we thought there was no better time to introduce you to the team of hands crafting the wine!
Winemaker Kirk Venge

1) HOW LONG HAVE YOU BEEN WITH ELEVEN ELEVEN?
Since even before the brand was Eleven Eleven. Back to Spring of 2012.
2) What drew you to working with Eleven Eleven, specifically?
It was truly serendipitous and began like any good storyline. It began with bright-minded characters from all parts of California, filling the roles and glued with time and friendship. Later, I learned about the vision of what was yet to be named Eleven Eleven, and I loved every bit of it. I wanted so eagerly to be a part of something fresh and creative such as what this winery has grown to become.
3) What's your favorite part about Eleven Eleven as a brand?
My favorite part about the winery is that it serves more than itself. With every ounce of its being, this winery stands behind charity and action. Whether it is for our local hospitals, The National Ability Center, One Blue Ocean, Napa Valley Chamber of Commerce, or the Napa Valley Vintners, 11:11 does not stop giving, with gratitude, to so many important causes. I think that all of us here at Eleven Eleven enjoy knowing our talents and earnings are shared with projects and people in need, in order to fuel the greater good.
4) What's your favorite part about your job?
Two things in fact! We all scribble the ideas in our minds out loud for everyone in the company to hear without ever any judgment. It's a creative space to thrive. The second is working with estate fruit and precision farming in a beautiful facility with a very talented team!
5) What's your favorite part about harvest and winemaking in general?
The seasonality that working in this industry gifts you. No two years are alike, especially in the last four we have had! I enjoy thinking, and scheming, along with Ellie and Brett and the Hospitality Team, about what our customers enjoy and perhaps do not enjoy. We make wine for the thousands of collective voices of our customers and in winegrowing and winemaking, we can interpret and humbly weave that back into the artwork of a fabulous bottle of wine.
6) What do you enjoy doing in your free time?
I enjoy many things and could go on and on, but the one that draws me in most these days is flying my Cirrus SR22T airplane. It commands practicing skills far beyond takeoffs and maneuvers. It's a mind-bender at times and really demands that you be in the moment every second. In addition to that, when I'm on the ground, it's riding bikes with my family, hiking the coast, and visiting all of the storied wine regions around the world. Wine travel is a real passion.
7) Favorite wine and food pairings?
11:11 Sauvignon Blanc and 2 dozen saline Myagi oysters upon the crusty picnic benches of Hog Island Oyster Company in the Summer! Let's share the '16 Laki's Cab from magnum with glazed mallard at the duck club, just before Christmas…
Director of Winemaking & Operations Brett Weis
1) How long have you been with Eleven Eleven?
I have been with Eleven Eleven for over 6 years. My first day was the day the Tasting Room opened in March of 2015.
2) What drew you to working with Eleven Eleven, specifically?
A fresh start, the imagination of what could be, and the people that were in charge of the vision.
3) What's your favorite part about Eleven Eleven as a brand?
The energy, creativity, and the desire to always be evolving.
4) What's your favorite part about your job?
I am lucky enough to say I make wine for a living. I am outside all the time in one of the most beautiful places on earth and I get to do this every day.
5) What's your favorite part about harvest and winemaking in general?
The anticipation of the first fruit, the hustle and bustle of a busy harvest day, the smell of fermentation, and squeegees. I love squeegees. You can't make wine without a great squeegee.
6) What do you enjoy doing in your free time?
I love to ski, golf, play guitar, spending time with the kids, wife, dog, and friends, and watching every sport from F1 to Ping Pong. I am a die-hard World Cup Skiing fan. I watch or record every race and hope to one day travel to Austria to watch the Hahnenkahmm in Kitzbuhel. This is the Super Bowl of World Cup skiing.
7) Favorite wine and food pairings?
Riesling and sushi, and Syrah and smores.
Cellar Master Edgar De Haro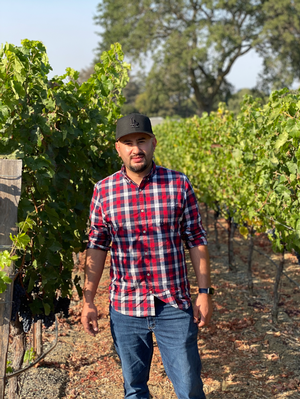 1) How long have you been with Eleven Eleven?
I've been enjoying my time at Eleven Eleven for two and a half years.
2) What drew you to working with Eleven Eleven, specifically?
I fell in love with the idea of working with different winemakers in our custom crush facility and learning from each of them.
3) What's your favorite part about Eleven Eleven as a brand?
The quality of our wines and the people behind them.
4) What's your favorite part about your job?
My favorite part about my job is that I get to work with a group of people that share the same hard-working values and dedication to making the best wines possible while enjoying the process.
5) What's your favorite part about harvest and winemaking in general?
My favorite part about harvest is the fermentation process. This is one of the most important steps to achieve the best flavor, aroma, and appearance of the wine.
6) What do you enjoy doing in your free time?
In my free time, you will find me playing with my three daughters, taking my dogs for a walk, or watching sports. "Let's go Dodgers!"
7) Favorite wine and food pairings?
My favorite pairing is a classic Eleven Eleven Estate Laki's Cabernet Sauvignon with a piece of ribeye. I also really enjoy some good barbecue ribs with our Destin Estate Syrah.
And that's a wrap on our winemaking team! Whether it's shopping our current release wines online, or stopping by for an intimate in-person tasting, we hope that you can soon enjoy all the fruits of this incredible crew's labor and Make Your Moment® with us in the heart of Napa Valley!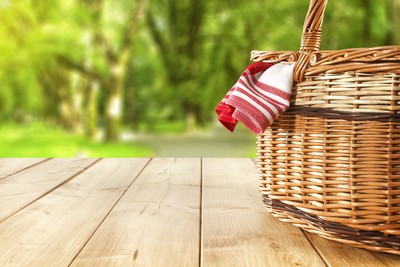 We don't know about you, but we sure missed spending time outdoors together! As we continue to venture out more and more, we've been dreaming of a classic picnic to come together with loved ones over a delicious meal. Whether dining in your backyard or heading out to your favorite park, we want to make sure you're prepared accordingly. From food safety tips to quintessential dishes to pack and the best Eleven Eleven Wines to tote along, treat yourself to some fresh air, fabulous fare, and a beautiful day in soaking up some sun.
Food Safety Tips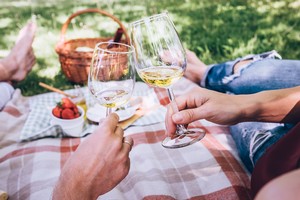 One of our most important tips is to start by packing cold foods straight to your basket or cooler.
Use plenty of ice packs or fill water bottles about two-thirds full and pop them in the freezer a day ahead. They'll keep your food cold and, as they melt, you'll have refreshing ice water.
Skip mayo-heavy salads such as potato salad, which can spoil more quickly in the sun. We opt for bean, grain, or pasta salads with vinegar-based dressings.
For food safety reasons, none of your perishables should be out of the cooler for more than two hours.
Handy Items to Pack
This ultimately goes without saying, but don't forget to pack the following items to ensure you're picnic ready! Some may not be necessities, but your picnic will feel more comfortable with them in tow.
A big picnic blanket or two, and ideally ones you won't worry about if something spills on them. For those who might have accessibility issues or discomfort sitting on the ground, a chair (preferably foldable, that can be carried in a bag) is a must.
Reusable plates, unbreakable cups or wine glasses (we love GoVino!), and real silverware (or disposable plates and silverware).
A roll of paper towels or cloth napkins to make things feel a little more elevated. Paper napkins can blow away easily, and paper towels or cloth napkins can serve as impromptu plates for small bites and desserts.
Wet wipes or damp washcloths sealed in a ziplock bag. This one especially applies if you're not going to have running water nearby. No one wants sticky hands!
A small knife wrapped in cardboard for safety and a small cutting board. Or, wrap the knife in a thick kitchen towel and secure it with a rubber band.
Trash bags. Before you leave, it's important to clean up after yourself!
Sunscreen. Even if you plan on sitting in the shade, better be safe than sorry.
Depending on where you live, bug spray could be the key to prevent creepy-crawlies from ruining your time.
Avoid soggy salads and sandwiches by keeping components such as dressings, fillings, and optional extras stored away in separate containers (chilled if necessary) until they're needed.
Our Top Food Picks
Before we get into our recommended pairings, our most important tip is not to pack anything too messy. A few thoughtful choices will mean your picnic spread will be both tasty and low-stress.
Easy Caprese Picnic Sandwiches
The sandwich version of an Italian classic, this simple dish includes tomatoes, fresh mozzarella, and basil which makes an easy filling for a vegetarian picnic sandwich. Pesto, fresh basil leaves, and baby spinach as add-ons make these extra delicious! We love this with a light yet flavorful red wine, which makes our 2018 Bacigalupi Pinot Noir an excellent choice.
Mediterranean Orzo Salad
You'll be pleasantly surprised that just a handful of ingredients can make something so delightful. All you need is orzo pasta, red grape or cherry tomatoes, kalamata olives, plenty of fresh herbs and feta to toss with a simple dressing of extra-virgin olive oil, lemon juice, garlic, and black pepper (don't forget to pack that in it's own container!). With these Mediterranean flavors, we recommend our 2019 Carol's Song Riesling.
Courtesy of Ree Drummond, click here for the recipe.
Apple, Sausage, and Caramelized Onion Frittata
We love this recipe because it's not only easy to bring along in your basket, but each bite of this sweet and savory frittata provides delicious layers of complementary flavors, including tart granny smith apples, meaty sausage, earthy thyme, and sweet caramelized onions. It's also packed with protein, low in carbs, and ready in less than 30 minutes. If you prefer a dairy-free version, swap in almond, soy, or oat milk and omit the cheese topping. With the complexity of the flavors in this dish, we love it with our 2018 Moss Creek Old Vine Zinfandel.
Courtesy of Joy Bauer, click here for the recipe.
Arugula Potato Salad with Orange and Gorgonzola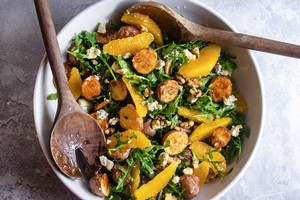 This might not be the typical "potato salad" that comes to mind, but we can't get over how lively this is! Roasted baby potatoes are tossed with arugula, sweet orange segments, toasted walnuts, and gorgonzola cheese which results in plenty of great texture. The simple, bright orange vinaigrette ties it all together beautifully. This is a great salad as a side to a lamb or beef course, too; and, it's a colorful addition to your picnic blanket! Savor this with our light, equally fresh 2020 Beckstoffer Sauvignon Blanc.
Courtesy of Giada De Laurentiis, click here for the recipe.
No matter the location of your picnic, Eleven Eleven is there with you to Make Your Moment® wherever you go. Be sure to share your summer adventures with us on Facebook and Instagram!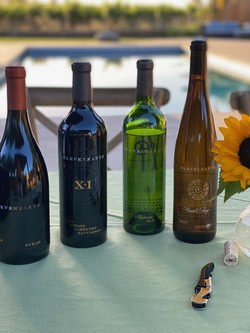 With Father's Day approaching, we're here to inspire you to create an experience full of delicious food and memorable wines for that father figure in your life.
Whether celebrating on Father's Day or looking for a special way to treat Dad any day of the year, we're excited to share our team's picks with the ideal pairing to accompany your wine.
Brightly shining and as clear as a perfect day, it's no secret why this wine simply screams summer. You're first treated to aromas of tropical fruit followed by invigorating scents of gardenia and Meyer lemon, while the palate is lively with crisp green apples, lemon meringue, and pineapple.
The Pairing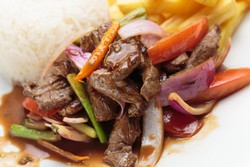 This refreshing Sauvignon Blanc pairs perfectly with exotic and vibrant culinary fare. We recommend whipping up some Peruvian cuisine such as lomo saltado (stir fry beef), rocoto relleno (stuffed spicy peppers), or arroz con pato (rice with duck). Find the recipes and learn more about these dishes here. If spice isn't your thing, a simple grilled chicken or fish with fresh herbs and a hint of lemon will do the trick.
Whether floating down the river, heading to the beach, or relaxing poolside–grab a floatie and get your glass of crisp, cool Sauvignon Blanc ready!
With exuberant aromas of orange peel and dried apricot, this vivacious, mouthwatering wine is dry in style, yet full of flavors of fresh-squeezed lemonade and citrus zest.
The Pairing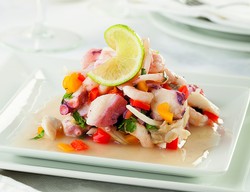 Riesling is unique because it pairs well with many dishes that other varietals do not, and we love this with lighter fare such as a fresh mango and seafood salad or a classic ceviche.
This wine truly takes us to another time and place everytime we sit down to enjoy it, and it's especially drinkable served chilled on those hot summer days!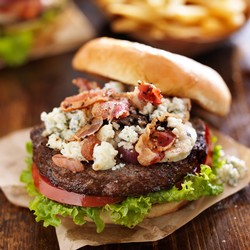 A powerful bouquet unfolds of blackberries, toffee, spice, and white pepper followed by hints of bacon fat, tobacco, and minerality on the nose and palate.
This wine is full-bodied,structured, and dark with bold fruity and peppery flavors.
The Pairing
The characteristics of this very special Syrah makes it a beautiful match with meats and grilled foods of all kinds. We're partial to a classic BBQ dish such as ribs or brisket, or a blue cheeseburger with caramelized onions and bacon!
With aromas of dark plums and blackberries, hints of graphite and black olive round it out giving this powerhouse a perceived maturity. Layers of cacao, raspberry, cinnamon, and nutmeg are most prominent followed by a hint of white pepper.
The Pairing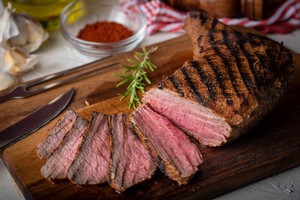 This young, bold wine complements a classic ribeye or Santa Maria tri-tip for those quintessential summer evenings made for grilling. Or, try it with a truffle cacio e pepe for a truly delectable duo!
It goes without saying that this wine is essential when cooking around a barbeque with friends and family, or winding down around a bonfire in the evening.
Whether you treat dad to one of our favorite meals by cooking it up with the kids, commemorate with a fun activity outdoors, or celebrate the memory of a father figure who is no longer with us, Eleven Eleven is always here to Make Your Moment® extra special. Browse our collection and explore our ten current releases to find the wine that suits dad's palate. A very Happy Father's Day to all of the wonderful dads and father figures out there!

Enjoy the graphic below that highlights each of our 14 wines, their appellation, tasting notes, and quintessential pairings for the perfect combo!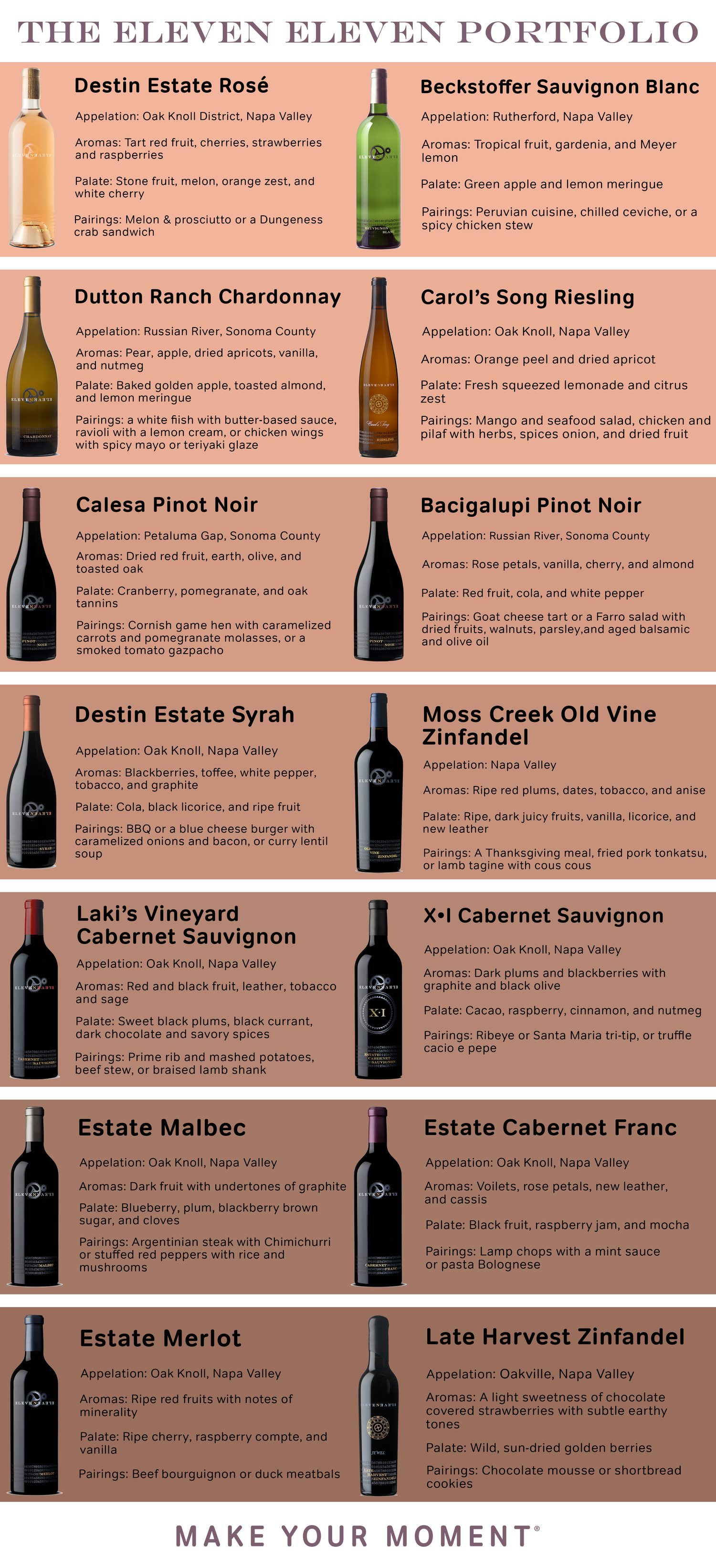 Introducing: Three New Eleven Eleven Wines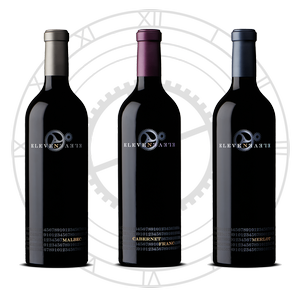 We're so proud to finally announce the release of our three brand new wines–the 2018 Malbec, 2018 Cabernet Franc, and 2018 Merlot. These wines are a testament to our Oak Knoll estate vineyards, and you can truly taste the distinct terroir. Each of these wines was carefully crafted and chosen specifically to enhance our current portfolio. We're also excited to share the quintessential food pairings to accompany these new wines and the inside scoop from our Winemaker Kirk Venge!
2018 Estate Malbec
Destin Vineyard, Oak Knoll District, Napa Valley Produced: 136 Cases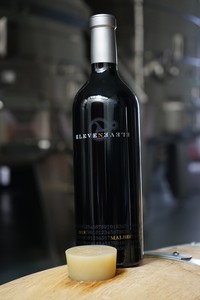 The 2018 Malbec emerges into the Eleven Eleven portfolio from the Destin Vineyard. Planted in 2015, these young vines are well beyond their years with power showing at every turn. At first glance, it shows intensity with dark purple and blue hues followed by gorgeous aromatics of ripe dark fruit with undertones of graphite. On the palate, this exhilarating wine offers striking juicy flavors of blueberry, plum, blackberry, brown sugar, and cloves, while the finish follows through with silky tannins. This bottle can be savored now or cellared for future enjoyment.
The Perfect Pairing
This young, bold wine will pair beautifully with Argentinian steak and a chimichurri sauce or a classic blue cheeseburger. For a lighter option, try stuffed red peppers with a wild rice and mushroom filling. To finish, pair it with a variety of cheeses with boundless flavor, such as blue, gorgonzola, Monterey Jack, or provolone.
A Word from Our Winemaker
"Malbec is the quintessential silver bullet of the cellar. Gorgeous black color, fumy blue fruit aromatics, ripe tannins, and a gravity in the mouth unlike any other. Often these wines can be quite monolithic by nature, but with some finessing in the cellar and always crafted with creative and gentle handling, this release will certainly be a welcome addition to the cellars of Eleven Eleven aficionados."
2018 Estate Merlot
Destin Vineyard, Oak Knoll District, Napa Valley Produced: 142 Cases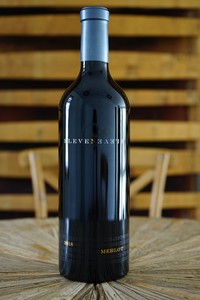 The Eleven Eleven 2018 Merlot hails from the Destin Vineyard and is a unique and pleasurable wine. Merlot is undoubtedly the unsung hero of the Bordeaux varieties in Napa Valley. It's a grape that offers elegance and restraint, all the while showing bright and lively components.
Upon inspection, the wine starts to reveal its distinction with a dark, brilliant currant hue. Moments later, you're greeted with aromas of ripe red fruits and notes of minerality. The palate is plush and voluptuous with flavors of ripe cherry and raspberry compote. Cherry cola and vanilla notes continue to smooth and silky tannins on the finish. Layers upon layers of flavor give the wine an opulent feel, all the while remaining true to its roots with delicate features that make this wine delightful for any wine lover.
The Perfect Pairing
This bright, juicy wine will accent comforting and savory flavors like those in beef bourguignon. For something more adventurous, try duck meatballs or a caramelized shallot pasta. For dessert, experiment with a vanilla bean raspberry tart with a graham cracker crust.
A Word from Our Winemaker
"When we thought of our unique terroir and cooler climate at Destin, in [the] Oak Knoll [District AVA], Merlot was a natural fit. It thrives in slightly cooler and deeper soils, like we have there. Planting it there was the right choice, and I hope you agree. Layers of depth, structure, and finesse course throughout this fine wine."
2018 Estate Cabernet Franc
11:11 Vineyard, Oak Knoll District, Napa Valley
Produced: 55 Cases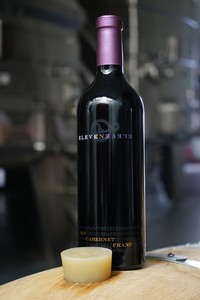 When we planted Cabernet Franc at our 11:11 Vineyard, we could only imagine the beauty that would unfold. The original decision came from the desire to produce a true Bordeaux blend, but what we were rewarded with is truly exciting. Staying true to our intentions, most of the fruit harvested went to our X∙I blend, but what we kept for the solo bottling we feel is an astounding expression of this variety.
In the glass, the appearance is truly inviting with a deep scarlet color that would make you think you're staring at the stone itself. Aromas of violets and rose petals are a welcome start, followed by notes of new leather, cassis, and an earthy minerality. Flavors of dark black fruits, raspberry jam, and mocha are dominant, while hints of sweetness on the side palate and spices lift the wine to a whole new level.
The Perfect Pairing
Try this wine with lamb chops and a mint sauce for something truly special. Simple dishes of red beans and rice or pasta with Bolognese sauce will also be a great match. To finish, enjoy goat cheese with small bits of honeycomb and Marcona almonds.
A Word from Our Winemaker
"One of the boldest of the Bordeaux varieties, I'm thrilled to have this Cabernet Franc in our lineup. It's a lovely tool as a blending varietal or standalone. It has a driving character, muscle, and an array of earth and black fruit aromatics. I imagine this to be one of our most anticipated and popular releases each year."
Having trouble deciding which of our new wines suits you? Take our quiz to determine which one fits your personality!
Whether one of our new red wines speaks to you or if you prefer whites, we have something for every palate in our collection. Shop our entire portfolio here, and if you pick up one of our new releases, be sure to share your experience with us on Facebook and Instagram!

With a new season comes exceptional new wines – one of which is brand new to our collection! With the especially chilly weather most of the country is experiencing, there's nothing we love more than curling up on the couch with close friends and family, a good movie, and sipping on a hearty glass of red wine.
But, don't get us wrong – these can be savored year-round! These wines warm our hearts and bellies with every sip, and whether enjoyed on their own or with your favorite fare, we're excited to highlight our three new spring releases. Want early access to our new releases, too? Explore Club 11:11 to learn more about how you can access our new wines before they're released.

2018 X∙I Cabernet Sauvignon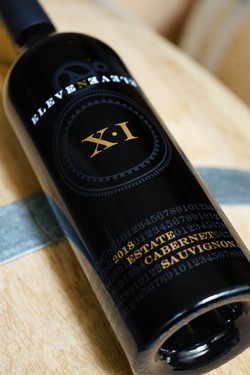 We can't help but begin this feature and introduction of a new wine by highlighting the thoughts of our Winemaker, Kirk Venge. He says of the X•I, "I haven't been this excited about unveiling a new wine in years. Finally, the secret is out! A true five varietal Estate Bordeaux Blend. Having the viticulture at your fingers to guide each of these plantings with just the right inputs and be blessed with a nearly perfect vintage like 2018 was a combination for success. I love the dark fruit and young, tightly laced tannin feel. As young as these plantings are, I predict outstanding things in future years stemming from this, the X•I inaugural release!"
Predominantly Cabernet Sauvignon, the 2018 X∙I Cabernet Sauvignon is a mélange of the five Bordeaux varietals giving this youthful blend depth and complexity, including Cabernet Sauvignon, Cabernet Franc, Merlot, Petit Verdot, and Malbec.
In 2014 and 2015, we planted the 11:11 and Destin Vineyards with young graftings of Cabernet Sauvignon, Merlot, Malbec, Petit Verdot, and Cabernet Franc. For the inaugural harvest of these grapes, Mother Nature delivered more than expected. The growing season was ideal – long and slow, resulting in an abundant harvest.
Tasting Notes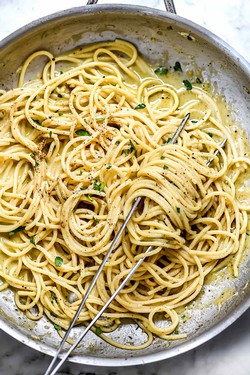 With aromas of dark plums and blackberries, hints of graphite and black olive round out the nose, giving this powerhouse a perceived maturity. The palate commands attention with layers of cacao, raspberry, cinnamon, and nutmeg, followed by a hint of white pepper. This wine is approachable yet formidable with all the heft and structure needed to age. Whether poured to stand-alone or paired with a flavorful meal, this wine is an occasion in and of itself!
Food Pairing
This young, bold wine will pair well with a classic ribeye or Santa Maria tri-tip. For something interesting, try it with a truffle cacio e pepe or a cacao rubbed pork chop. To finish your meal, a baked apple crisp drizzled with caramel is sure to excite your taste buds.

2018 Laki's Vineyard Cabernet Sauvignon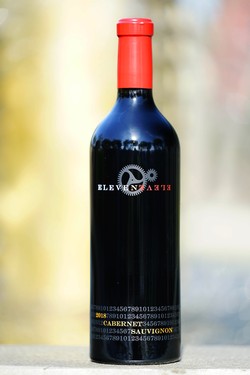 Our oldest estate Cabernet Sauvignon, our 2018 Laki's Vineyard Cabernet Sauvignon is the perfect complement to any small gathering where an elevated and truly stunning wine is needed. With each vintage, we look to perfect this wine that started it all for us in 2012.
Tasting Notes
For the 2018 vintage, we were again able to extend barrel aging to 23 months to increase depth. The aromatics emit layers on the nose, the most prominent being lush red and black fruit with refined aromas of leather, cassis, and rose petal. That refinement carries through to the palate, where it showcases flavors of ripe plum and black currant.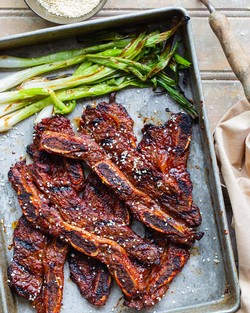 As you dive deeper, these fruit qualities are matched with bitter dark chocolate and coffee. This wine is beautiful to enjoy now, but also age-worthy and drinkable in 10 years. Whenever you decide to open this bottle, it's sure to be the quintessential time to Make Your Moment®!
Food Pairing
This classic example of premium Napa Cabernet Sauvignon will pair well with the hefty dishes we all love to indulge in from time to time. The intricacy of the palate makes it a great pair to Korean Short Ribs with a sweet glaze, duck molé, or polenta with a spicy tomato sauce.

2018 Destin Estate Syrah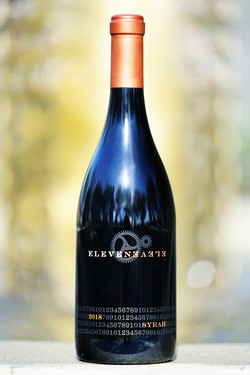 Our 2018 Destin Vineyard Estate Syrah flourished, as did many vineyards in 2018, and we were blessed with a bountiful and beautiful crop. This dynamic wine is the perfect combination of Old and New world.
Tasting Notes
The nose of this wine is aromatically bold with a complex palate rich in flavors and texture. The journey starts with an eye-catching deep ruby color.
By allowing the wine a moment to express itself and breathe, a powerful bouquet unfolds chock-full of blackberries, toffee, spice, and white pepper. This is followed by hints of bacon fat, tobacco, and graphite. The bold, lengthy finish highlights fine acidity and youthful tannins for a perfect finale. You're sure to win the hearts and palates of anyone you share this with!
Food Pairing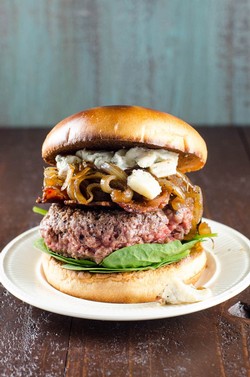 Our Estate Syrah is full-bodied, structured, and dark with bold, uncompromising fruit and pepper notes. This makes it the ideal pairing for rich meats and grilled foods. For something simple, enjoy it with your favorite BBQ recipe or a blue cheese burger with caramelized onions and bacon. For a more adventurous pairing, try a curry lentil soup as the hints of spice will complement the gentle heat of the curry. To top off the night, finish with peanut butter and chocolate ice cream!
We hope you savor these new releases as much as we do, and be sure to share your experience on Facebook and Instagram! If red wines don't suit your palate, make sure to browse our collection of white wines that are sure to please this spring!
We love to share our moments!
Sign-up for our Newsletter and be the first to learn about our new releases, upcoming events, winery news and more. The best way to keep in touch is to sign up.