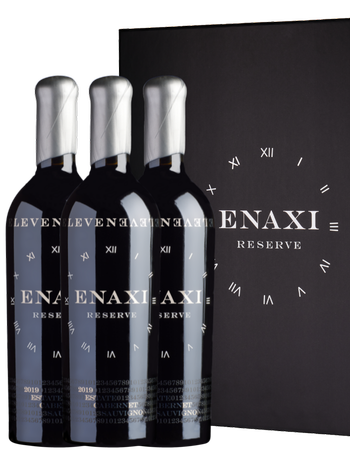 2019 ENAXI Reserve Three Bottle Set
2019 ENAXI Reserve Estate Cabernet Sauvignon
ENAXI — derived from the Greek word meaning, THE ONE. This Reserve is the premium expression of one vineyard, one varietal selected from the 11:11 Estate. Co-founder Ellie Anest dedicates this wine in memory of her parents, Kathryn & Paul Anest, who represented a union that together is one.
Vineyard Notes
Nestled in the Oak Knoll District of Napa Valley, you will find the 11:11® Vineyard, the pinnacle of our winemaking dedication and excellence. Planted in 2014, this vineyard, consisting of Cabernet Sauvignon, Cabernet Franc, and Petit Verdot, bears the fruits of unwavering dedication and organic farming practices - a true product of passion and patience. Within the greater 11:11® Vineyard, ENAXI Reserve was carefully selected and hard-harvested from Block 2C of the vineyard where Clone 169 thrives. The inherent characteristics of this unique clone lend a distinctive depth and complexity to our wine, distinguishing it in a class of its own. This deliberate tempering is further enriched through precise canopy management. A careful balance of control and natural growth yields the complex flavors and unique characteristics of our signature ENAXI Reserve.
Winemaking Notes
The meticulous winemaking process of ENAXI showcases the dedication and commitment to crafting an exquisite and complex Reserve Cabernet Sauvignon. The sorting process commences in the vineyard when clusters are meticulously hand-selected and harvested. This scrupulous selection procedure continues by hand before and after the destemming phase, further supplemented by state-of-the-art optical berry sorting to guarantee only the best quality Cabernet Sauvignon is chosen. To extract the maximum color, flavor, and tannin from the grapes, the Cabernet Sauvignon enjoyed an extended maceration period of 21 days on skins. This prolonged contact between the grape skins and the fermenting juice creates a wine with a bold, structured backbone and rich, complex flavors. Our premium oak program included Darnajou, Taransaud, and Sylvain cooperages, where the wine was aged in 100% new French oak for a substantial 28-month period. Following the bottling process, the wine was allowed to settle and age for an additional 20 months in the bottle prior to release, ensuring a truly polished and sophisticated sensory experience.
Tasting Notes
Inaugural Vintage – The 2019 ENAXI Reserve Estate Cabernet Sauvignon boasts a boldly opaque, deep ruby-purple hue, encapsulating its youthful intensity. Blackcurrant and ripe dark cherry aromas intermingle with refined notes of tobacco, cocoa, caramel brûlée, and a hint of minerality adding depth and intrigue. On the palate, this wine is a force to be reckoned with, presenting a symphony of flavors. The sophisticated, round mouthfeel is multidimensional with bold flavors of dark red and black fruits complemented by vanilla, dark chocolate, and a well-integrated oak influence. The robust palate reveals firm, velvety tannins, a balancing acid structure, and an enduring finish that irresistibly entices one for another sip. This first release of ENAXI Reserve presents a highly expressive and complex wine, beautifully embodying the rich terroir from which it is sourced, setting the bar high for the vintages to follow.
Winemaker's Notes by Kirk Venge
"This is our chance to share the dance floor with the Napa Valley greats–with the world's greats. After nine years in the making from planting to release, I am eager and beyond excited to unleash the inaugural 2019 vintage of ENAXI Reserve into the world. With eyes open wide and "whoa's" in our throats, ENAXI is simply an outrageous wine that boasts a rich profile of aroma, flavor, intensity, and depth, with a gorgeous 3-minute finish!"