September 15, 2023 | Ellie Anest
Celebrating Heritage & Hard Work

At Eleven Eleven Wines, the story of excellence is written by every member of our family. As we step into the vibrant tapestry of Hispanic Heritage Month through September & October, we take this opportunity to shine a spotlight on the dedicated individuals who bring our wines to life. Our Cellar Team, led by Cellar Master Edgar De Haro, exemplifies the heart and soul of our brand.
From harvesting and processing grapes to managing fermentation and maturation, the cellar team orchestrates our grapes' intricate journey from vine to bottle, resulting in our high-quality wines that embody the artistry and craftsmanship of our team.
Let's take a closer look at the incredible members of our cellar crew and their favorite aspects of winemaking at Eleven Eleven.
Cellar Master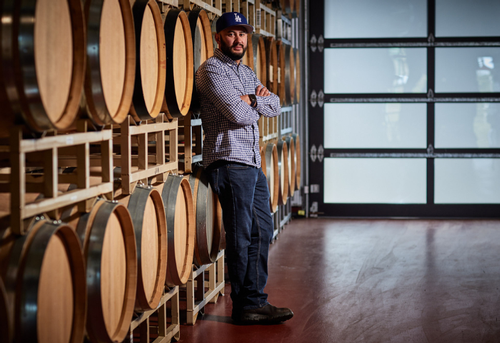 Harvest at Eleven Eleven holds numerous enjoyable aspects to me; my role as Cellar Master is never monotonous, with every day bringing forth a variety of details to pay attention to. The abundant energy and upbeat attitude during harvest is invigorating, making each day exciting and fulfilling. I have been a part of the Eleven Eleven team since June 2019, bringing it to approximately 4.5 years now. My journey of winemaking initiated with my first harvest in 2008, exclusively in Napa Valley, laying the foundation for a decade-long passion.
My favorite Eleven Eleven wine is our 2018 Laki's Estate Cabernet Sauvignon, which turned out exceptionally well-rounded. I greatly enjoy pairing it with spicy Carne Asada and roasted peppers on the side for a meal.
Barrell Hall Supervisor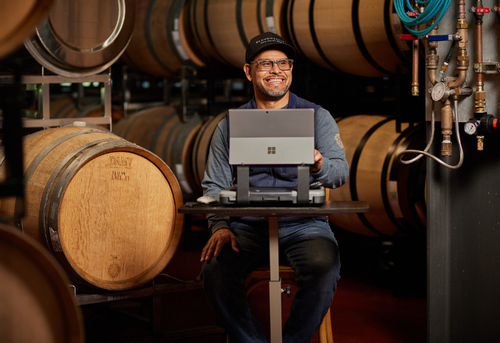 Having been an integral part of the Eleven Eleven team for ten Harvest seasons, my experience and fondness for this special place has only continued to grow over time. In total, I've been making wine for twelve years, honing my skills and deepening my appreciation for the craft. One aspect of the Harvest at Eleven Eleven that I particularly relish is the delightful aroma produced during fermentation.
Among the diverse range of wines we produce, the Destin Estate Syrah holds a special place for me, as it is my favorite to produce, encompassing all the passion and dedication I hold for winemaking.
Cellar Supervisor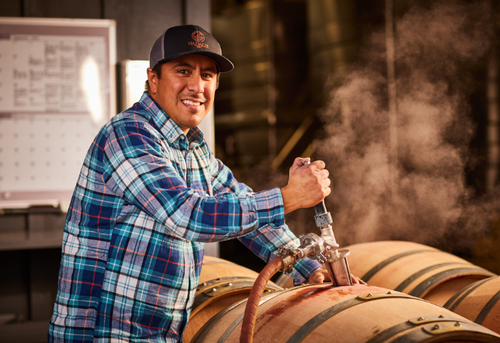 Harvest at Eleven Eleven is a thrilling rush of excitement – life is never still during this time of year! The robust teamwork and seamless communication make it incredibly enjoyable to be a part of this dedicated team. Despite the hustle and bustle, the days pass by swiftly because of the fun we share by working together. I've been with Eleven Eleven for around 3.5 years now, and my journey in winemaking spans a little more than a decade – 11 years to be precise – all of which I've spent in Napa Valley. I started my professional venture in St. Helena, eventually ending up in the Oak Knoll District.
Among all the wonderful wines we've produced, my favorite would be the 2019 Laki's Estate Cabernet Sauvignon – its smoothness and pleasant nose make for a standout wine! A juicy, medium-cooked steak complemented by grilled veggies serves as the perfect pairing to bring out its distinct flavors.
Laboratory Technician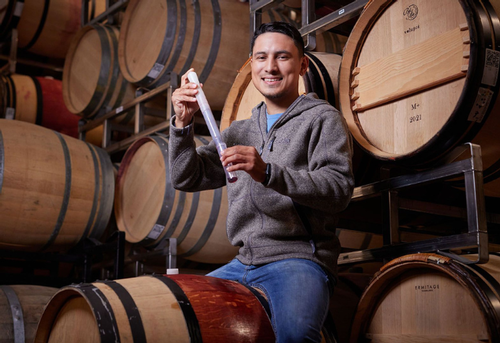 My favorite part of Harvest at Eleven Eleven is undoubtedly Halloween – not only does everyone dress up, but the competition for best costume is taken very seriously! Last year, I was Naruto, though I'm still brainstorming for this year - but I plan on winning! I've been a part of the Eleven Eleven team since August 2021 and have been making wine since 2018, marking this year as my sixth harvest. It's honestly hard to believe how fast time has flown!
One wine that stands out to me the most is our Beckstoffer Sauvignon Blanc; its release is something I anticipate every year. When it comes to a food pairing, I highly recommend spicy shrimp ceviche to complement the wine's flavor profile excellently.
Cellar Assistant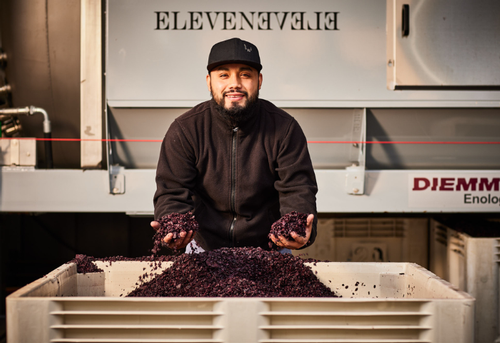 One of my favorite parts of Harvest is the process of pressing grapes. I love to see it happen - especially the whole-cluster white varieties are fascinating to watch go through the bladder press. I've been with Eleven Eleven for about 3.5 years, enhancing my winemaking journey that spans over 10 years.
My favorite offering from Eleven Eleven's portfolio is our 2020 X∙I Cabernet Sauvignon, primarily for its flavors and harmonious tannins. To enjoy it to the fullest, I pair it with a Mexican plate featuring red mole, a dish that carries just the right amount of spice. Truly, nothing compares to the version prepared by my mom – it's the best!
––––––––––––––––––––––––––––––
Join us in raising a glass to our incredible Cellar Team as we honor their hard work, passion, and the amazing perspectives they bring to Eleven Eleven. Cheers to excellence, unity, and pouring our shared love into every bottle!
Comments
Commenting has been turned off.
We love to share our moments!
Sign-up for our Newsletter and be the first to learn about our new releases, upcoming events, winery news and more. The best way to keep in touch is to sign up.