Five years ago we opened our tasting room and created Club 11:11. 2020 has reminded us all of how lucky we are to have our extended family to weather the storms in life. To share in our gratitude, we're highlighting a few long-time members who have become lifelong friends of our team. We're thankful for their patronage and kind words. Read on to learn more about their experiences with us, what made them decide to become members, and some of their favorite Eleven Eleven wine and holiday food pairings.
Angela & Mike Nadeau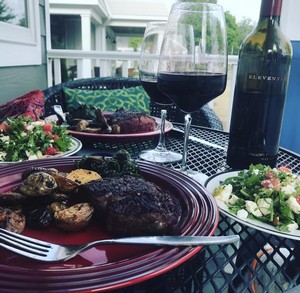 Angela and Mike Nadeau have been Wine Club members for five years, and when asked why they joined us, they said, "while the wine is fantastic, we also loved the energy of the tasting room. Eleven Eleven does things THEIR way. Fabulous parties, hugs from Holly [our Manager of Hospitality & Wine Club], blogs, etc."
Mike and Angela are foodies and love to pair our Destin Estate Syrah with grilled lamb lollipops because of its complex layers. They enjoy our Carol's Song Riesling with curry, the Dutton Ranch Chardonnay with crab legs, and our Laki's Vineyard Cabernet Sauvignon with a classic steak, pictured here. With that, our mouths are watering!
Karen & Evertte Dyer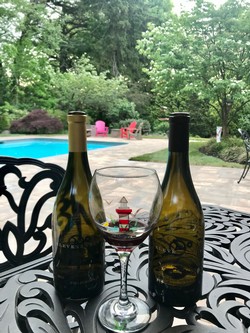 Karen has been a Wine Club member for four years. "We came to Eleven Eleven at [a friend's} recommendation. Every moment of that large group visit (that many wineries would not even take) was friendly, enjoyable, and sheer happiness. We joined and stayed because of Holly. It was she who made that first day and every day since memorable. I love sitting outside under the sails and taking in the beauty and serenity. I love that [the Eleven Eleven team has] so much to share about the wines and when to enjoy them, and are NEVER in a hurry."
One of their favorite things about our wines is that they "know that we can take Eleven Eleven anywhere for any occasion (or just in our own backyard) and be absolutely confident that it will be exceptional. We also know that we are genuinely cared for as a part of the Eleven Eleven family."
Kate & Gerard Gurney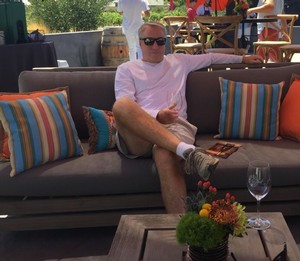 Kate and Gerard have been members for four years, and not only that, we were their first wine club! "[Eleven Eleven] will be our forever favorite. In addition to the wonderful wines, we immediately loved the welcoming, unpretentious atmosphere of the tasting room. The beautiful decor (along with the glass of Sauv Blanc from Holly as soon as you walk in the door!) always immediately transports us to our 'happy place'. We also loved the passion that the tasting room team has for their wine, as well as their excitement to make every tasting a special experience. Everyone is so genuine and there is no 'going through the motions'. It's a wonderful experience every time."
When we asked about their favorite Eleven Eleven wine, we were so flattered by their response. "The 2013 Cab is not just our favorite Eleven Eleven wine… it's our favorite wine [overall]. Hands down. We love that we can drink it alone or with a special meal." When it comes to their go-to food and wine pairing, they love our Dutton Ranch Chardonnay with sushi.
Chris & Whitney Vishey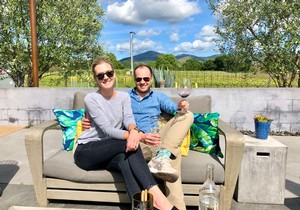 Chris and Whitney have been Wine Club members for four and a half years, and what brought them to join our club was their tasting experience with us.
"Our first experience onsite for a wine tasting with Holly was an absolute blast. Loved the people, the experience, and the wine." When they visit us, what they enjoy the most is "[it's] always a relaxing experience and a great way to decompress after the flight [from Michigan] with great wine and company."
Our 2013 Laki's Vineyard Cabernet Sauvignon has been a favorite of theirs over the years, while they enjoy our Beckstoffer Sauvignon Blanc during the summer months. To accompany our wines, Whitney's mom makes "amazing homemade pizzas, [which is] great with the Bacigalupi Pinot Noir." On their next visit, they're looking forward to hopefully bringing their dog, Henri, out for a tasting and some sunbathing on the patio!
Alison & Carlos Rodrigues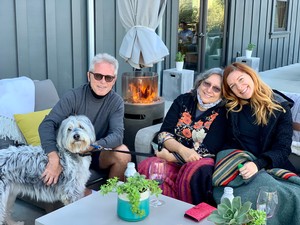 Alison and Carlos have been members of ours for four years, and they joined us because of Holly's hospitality who hosted them on their first experience. Additionally, "the vibe of the tasting room (a unique mix of cool, refined, and comfortable), and, of course, the wine (delicious!). We visited Eleven Eleven and didn't want to leave. Fortunately, the winery is a mere hour drive from San Francisco. The Eleven Eleven story is so special and unique, and the team running the hospitality program is stellar."

Our Bacigalupi Pinot Noir is their favorite "because it's so smooth. Its fruit lingers on the palate in all the right ways. While the Bacigalupi Pinot is my favorite of the Eleven Eleven wines, I'm [currently] loving the Carol's Song Riesling. To all those who are skeptical about American-produced Rieslings, I encourage you to try this one. It's light, aromatic, and dry – everything you would want from this varietal."
Andrea & Bill Duesenberg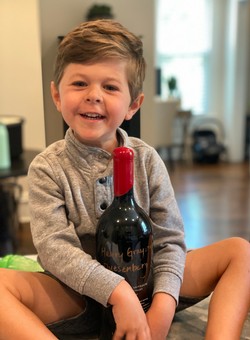 Andrea and Bill were the very first members of Club 11:11 and joined in 2015. Since then they've welcomed a son, Henry, pictured here with a magnum of their favorite Eleven Eleven wine from his birth year.
They took a trip to Napa over Thanksgiving with a group of friends. "We were immediately drawn to the culture, ambiance, and outstanding tasting experience. The meaning behind Eleven Eleven really spoke to us. For us, the meant-to-be moments that represent Eleven Eleven are often the reasons we are reaching to open that bottle of wine. Whether we're celebrating holidays, friends, accomplishments, or just good company, we always cherish meant-to-be moments. The hospitality team goes above and beyond to help us celebrate all of our moments!"
The pair lives in Chicago and enjoys both red and white wine with the change in seasons. "In the cooler months, we savor the Estate Cab and Pinot Noir. In the warmer months, we enjoy sitting outside with a bottle of the Chardonnay. If we had to pick a favorite Eleven Eleven wine it would have to be Laki's Estate Cabernet. It's bold but structured with balance. It pairs well with a charcuterie board or a full dinner."
John & Kim Novikoff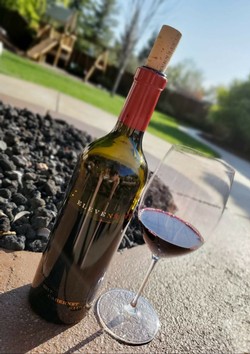 John and his wife have been Club 11:11 Members for four years, and from the first time they entered the winery, they said they "were treated as returning family members and were encapsulated by the story of Eleven Eleven's start. Instead of scripted wine descriptions, we have open discussions with Holly about each wine, history of the growing season, and how best to leverage its character."
Their favorite wine in our portfolio is our Laki's Vineyard Cabernet Sauvignon because of it's hearty flavor and versatility, and love pairing it with a slightly seasoned steak with rosemary, thyme, pepper, salt, and a hint of garlic butter caramelization.
Besides enjoying our wines at our tasting room, they love the West Shore Cafe in Lake Tahoe who actually carries our Cabernet Sauvignon on their menu! They have been visiting this restaurant for years, and our Cab "is a staple of an evening out on the water, watching the sunset and moonrise."
We truly can't thank our Club 11:11 Members enough for their continued support - particularly during this especially unusual year. For the everyday wine enthusiast or the deeply committed collector, our memberships will allow you to enjoy our single-vineyard wines all year long. Our members receive exclusive access to our elevated experiences and limited production wines, and always end up feeling like family. Interested in Club 11:11? Click here to learn more and Make Your Moment® with us! Happy holidays!
We love to share our moments!
Sign-up for our Newsletter and be the first to learn about our new releases, upcoming events, winery news and more. The best way to keep in touch is to sign up.