For us and many wineries around the Napa Valley, August marks the beginning of harvest. Although this year has certainly brought its fair share of hurdles, we're excited to dive into what the 2020 vintage looks like for all of us here at Eleven Eleven from the blessing of the grapes and everything in between!
Our core belief is to Make Your Moment® whenever possible, wherever you are. When you visit us in our tasting room or crack open one of our bottles at home, our goal is to elicit those meant-to-be moments that highlight inspiration and delight. The work that goes into crafting our wines is an integral part of this intention, and we look forward to sharing this special moment of our winemaking process with you.
The Tradition of the Grape Blessing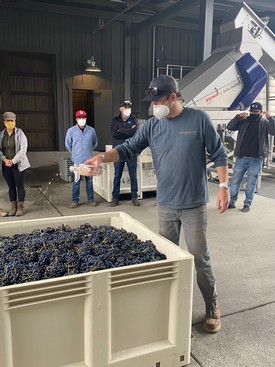 Traditionally, August 6th is recognized as the day of grape blessings. This ceremony originated as what is considered to be the first harvest of the season. This fruit maintains a special place of honor for us as we head into the season, and this blessing is a way to show our gratitude to what the earth has provided us.
This is generally an ancient Christian custom as during the first week of August, the farmers used to gather the early fruits of their summer harvest (grapes, figs, etc.) and present them in the church to be blessed and give them to the congregation. These fruits are called the "beginnings".
Each year, our team gathers as a group (safely and socially distanced, this year!) around a bin of new grapes to partake in this special occasion. Each person has their own unique way of pouring the wine, from a simple splash to a zig-zag or cross formation. This has been a tradition we have kept since we started the winery. Here you can see our Associate Winemaker, Brett Weis, pouring a previous vintage of our Rosé over new Syrah grapes!

Thoughts from Our Leadership Team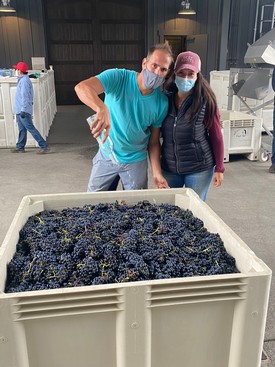 While harvest is always a busy, exciting time for the wine industry as a whole, we'd be remiss if we didn't acknowledge the fires affecting the Napa and Sonoma Valleys. As with any fire or natural disaster, it's a little unnerving for all of us both personally, and making sure Eleven Eleven as a business is operating to the best of our ability.
We pride ourselves at Eleven Eleven on being a close-knit family, and the well-being of our employees and guests continue to be paramount. With COVID-19 on top of this, 2020 has presented an especially unique challenge both in and out of production and the tasting room.
As we slowly phase into autumn, winter, and the holidays that come with this season of life, we're increasingly thankful for our family, friends, our Club 11:11 members, and loyal Eleven Eleven supporters like you!
We love to share our moments!
Sign-up for our Newsletter and be the first to learn about our new releases, upcoming events, winery news and more. The best way to keep in touch is to sign up.