The marriage of wine and art was paramount when we designed the winery to reflect our shared passion for the arts. When building our winery, we wanted to create an ambiance that stimulated the senses as much as the wine itself. Over the years, we have carefully curated pieces that embody our passion for the art of winemaking to enhance the guest experience. With that, we're excited to introduce our featured artists and celebrate their immense talent.
1. Amy Koumaras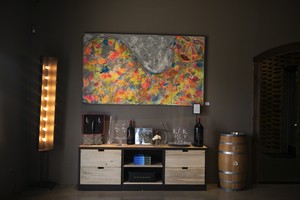 We are thrilled to be showcasing the vibrant paintings of Amy Koumaras in our Napa tasting room. A self-taught, San Diego-based artist, Amy's unique story began as a child. Amy says of her art, "I have been creating my whole life. Growing up I was fascinated watching my mother paint portraits. I loved to sketch as a child for friends. Early on I was interested in designing men's clothing and particularly loved creating classic pieces. I love the freedom and personal expression painting allows me. Painting makes me feel alive and it is quite magical to complete a piece."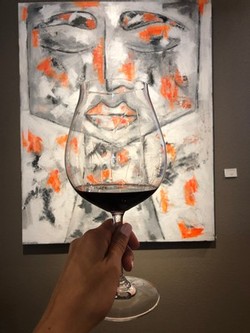 Her early work is centered on the sensuality and strength of the female form. Her "Women" series, shown in several of the pieces on display, reflects femininity in the postures and subtle nuances of the placement of a hand or the tilt of the head.
Amy later turned her attention to abstract work using bold colors to saturate the canvas. From fiery reds and oranges to pensive blues and greens, Amy's work always centers on the many passions of the female spirit.
Ellie Anest, Eleven Eleven co-Founder, met Amy through the San Diego Greek Community and, after realizing that they have family friends in common, developed a lasting friendship. Believing that her artistic style would lend itself to the creative design of the winery, Ellie invited Amy to showcase her paintings. Amy drove from San Diego to Napa with a van filled with her art to meet with Ellie and Aurelien Roulin - Eleven Eleven's co-Founder - who carefully selected pieces to display throughout the property.
2. Michael Holmes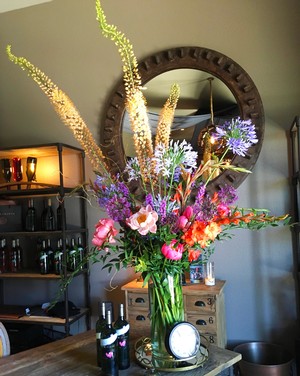 We were so honored to have partnered with celebrated Napa native, Michael Holmes, as our very first featured artist at the winery with a collection of his paintings. Today, Michael's talents are displayed in our Tasting Room through his one-of-a-kind floral designs which allow us to continuously recreate the space with varying sophisticated, dramatic and whimsical arrangements.
Michael's creations span an array of artistic formats ranging from oil painting and sculpting to interior, floral, and event design. Early in his career, the artist community in the Napa Valley recognized Michael's abilities in the art of fine oil paintings, and they took him under their wing, which allowed him to learn from and work with the area's most prominent and recognized artists. Michael has been painting and sculpting for over 45 years.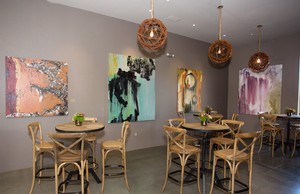 Michael's vast creative energy at an early age also led to his success as a floral and event designer, becoming the proprietor of Napa Valley's most successful and creative floral boutique before graduating high school. Michael's love of fine art, nature, and textures are also a strong influence in his sophisticated but casual lifestyle in interior design. He has a knack for combining the unusual, reclaimed salvage, history, and nature, then creating a fresh aesthetic design that integrates the indoors with the outdoors.
Ellie and Aurelien were introduced to Michael through Aurelien's friends, John and Carol Euser. This serendipitous introduction resulted in a lasting relationship with this talented designer, artist, and businessman, who continues to be a great creative advisor to our winery.
3. Stephen Fitz-Gerald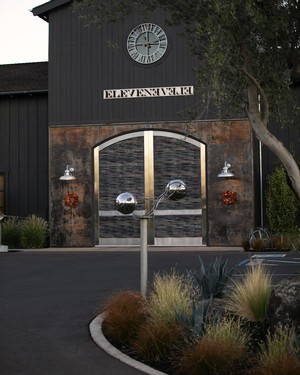 As a result of his collaboration with the winery, Michael Holmes introduced us to the distinctive works of metal sculptor Stephen Fitz-Gerald whom Michael had featured in his gallery.

Stephen's work can be found in the sculptures featured throughout our winery property. His figurative works, though stylized using high-tech materials and construction techniques, retain an ancient flavor that he attributes to an early exposure in childhood to the Greek sculptures of antiquity.
In addition to sculpting, Stephen's works extend to the design and fabrication of functional decorative arts - from furniture to jewelry to outdoor structures, which likewise embrace the intersection between art and wine. He says, "I live in wine country, North of San Francisco amid the bucolic vineyards and quaint pastoral settings which produce that essence so prized by common folk and connoisseurs alike; namely wine . . . There is a predilection of Mediterranean themes here in architecture and ambiance, and viticulture forms a focal point for many of the decorative arts."
4. Aurelien Roulin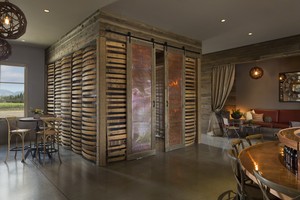 Last but certainly not least, our custom made Stave Room was created by none other than Eleven Eleven's own co-founder, Aurelien Roulin. When we first purchased the winery property, there were many used barrels left behind that inspired Aurelien to repurpose and artistically incorporate them into our interior design.

Each barrel was dismantled, power washed, and treated -- then, like piecing together a puzzle, Aurelien started the creative process by putting a few variations of the staves together to determine our favorite design. He subsequently built a prototype of the stave curtains, sketched a structural design, and constructed and transformed the space into what is now referred to as the Stave Room.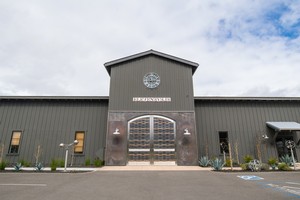 As you move throughout the winery property you will see various ways the barrel stave design is incorporated using different materials, such as metal, on the front winery gate, grand winery doors, and in the barrel hall.
Whether you're a local or visiting us from out of town, we hope you stop in and experience not only our beautiful wines but the thoughtful ambiance we've carefully created to elevate your tasting experience.
We love to share our moments!
Sign-up for our Newsletter and be the first to learn about our new releases, upcoming events, winery news and more. The best way to keep in touch is to sign up.