For us and many wineries around Napa Valley, August through October marks our harvest season. The Valley comes alive with the excitement and rush of harvest. Tending to the grapevines is a year-round process, but this is the time when the vineyards and the wineries bustle with workers racing to pick grapes at their peak ripeness. This year has certainly brought its fair share of hurdles, but we're excited to dive into what the 2020 vintage looks like for all of us here at Eleven Eleven.
The 2020 Growing Season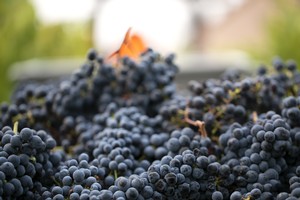 For an update on the growing season, we reached out to our Associate Winemaker, Brett Weis, who said, "the growing season started off with a fairly mild spring that led us into ideal conditions for bloom and set. There were a couple cooling events, but for the most part, we were off to the races for what we thought was going to be a 'normal' ripening season."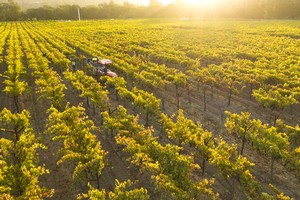 He continued, "June through August were steady and warm with no major heat spikes to speed things along until [mid-August]. Fires again have returned and, unfortunately, cast a thick layer [of smoke] across the valley. One thing I know is that we will make the best wines we can under the most difficult of circumstances."

The Harvest of the Grapes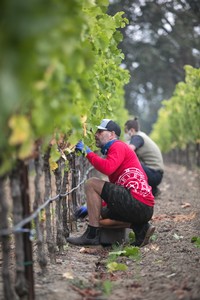 On August 21st, we harvested our first fruit of the year, our Sauvignon Blanc, followed by the second pick of our estate Riesling. Every year, we as a team pick grapes from some selected blocks on our Estate. Brett says, "this is truly the best team-building experience and proves to be extremely helpful for everyone. It gives insight, recognition, and respect for the land, the people, and the process that goes into a bottle of wine."
Through September, we continued to harvest the remainder of our estate fruit, ending with the Cab Franc the last week of the month. Even though our Harvest finished earlier than years past, the wine quality was not compromised and the resulting wines we have in house are dark, dense, and full of flavor and character.
It is not lost on us how fortunate we are to have been able to harvest the majority of our fruit before any smoke damage from the fires. We are confident that a stellar 2020 vintage and many stories of this harvest will be enjoyed for years to come. We are fully committed to what the Eleven Eleven name stands for: quality, and of Making Our Moment Count.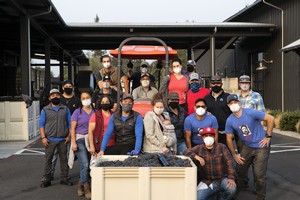 We have been wearing our masks this year and our smiles are covered, but our team at Eleven Eleven has shown such resilience, perseverance, and teamwork. We are grateful for all the learnings 2020 has brought us!
We love to share our moments!
Sign-up for our Newsletter and be the first to learn about our new releases, upcoming events, winery news and more. The best way to keep in touch is to sign up.