Here we are in the last stretch of the year. As you move through this holiday week, we hope you take time to pause and breathe.
2020 was no doubt one for the record books. This was a year of major change and reflection both individually and as a country, a time of movement, and a time of pivoting our winery and tasting room practices. Join us for this look back on 2020 to relive some of the new and exciting things we implemented for this unique year that we will carry into 2021.
Virtual Tastings and Experiences
We pride ourselves on providing elevated, personal, and welcoming wine tastings at our Napa tasting room just minutes from downtown. When we closed our tasting room earlier this year (and intermittently since then), this began to look very different for us, as well as many wineries around the valley. With that, we all had to get creative. This led us to develop virtual wine tastings and experiences.
The 11:11 Connect Experience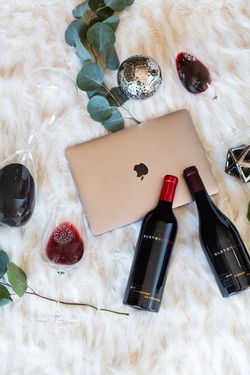 Our Virtual Tastings became the 11:11 Connect Experience, which brings our elevated wine tasting to the comfort of your home. Whether you're a loyal Eleven Eleven fan or new to our wines, we wanted to bring you a little cheer this year - even if it's from afar! When you purchase a minimum of $300 of wine for you or with your fellow wine lovers to enjoy, receive a special one-on-one virtual tasting with one of our Hospitality Associates. They're not only experts on our wines, but are well-versed in the Napa and Sonoma Valley terroir so you have a truly "edutaining" (educating and entertaining) experience! To book an 11:11 Connect Experience, click here.
Make Your Moment Series
This series was developed as an hour-long happy hour hosted by Eleven Eleven Founders, Ellie Anest and Aurelien Roulin, and featured a variety of guests who all had a connection to Eleven Eleven. We first chatted with Nutrition & Lifestyle Expert and Author, Joy Bauer, and Chef Ryan Scott, then dove into how COVID-19 affected the sports industry with NBA Commentator, Mike Breen, and NBA Announcer, Tim Roye. We also heard the musical talent of musician, Brian Newmann, and Actor Scott Wolf and his Writer, Speaker, and Life Coach wife, Kelley, joined us in our most recent installment of this series. Each of these experiences were filled with laughs, finding new and eye-opening ways of experiencing life, and each spoke to our motto of Make Your Moment® while enjoying sips of wine.
Curbside Pick-up
When winery visits were barred, we once again found ourselves having to find new ways of providing your Eleven Eleven favorites. In an effort to maintain social distancing for those that are local, we began offering curbside pick-up. We're excited to continue this offering throughout 2021 to ensure your experience with us is as comfortable as possible. If you're interested in this option, email hospitality@1111wines.com or call (707) 224.2211 to place your order and coordinate your pick-up time with one of our team members.
Our New Patio for Wine Tastings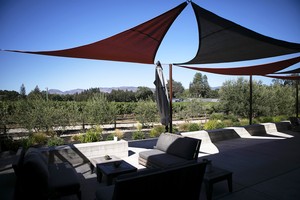 Aside from COVID-19 and indoor tasting closures over the past several months, we gave our main tasting room a little facelift (more to come in 2021!). Thankfully, we have a beautiful patio in the back of our property that overlooks a neighboring vineyard.
Adorned with colorful umbrellas, comfy couches, heaters, and blankets to keep you toasty during the cooler days, our patio is a quintessential place to enjoy an afternoon in the Napa Valley when the time is right for you.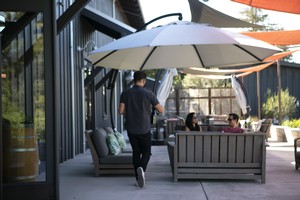 While 2020 wasn't what any of us expected, we choose to look at the glass half full and see this year as a learning experience. We're so proud of each team member here at Eleven Eleven for being so adaptable and maintaining positivity. We're also incredibly grateful to our Club 11:11 members and loyal Eleven Eleven fans for helping to keep our doors open and the wine flowing this year. We couldn't have done it without you! Cheers to the end of one interesting year, and the beginning of 2021 filled with new opportunities and new moments ahead.
We love to share our moments!
Sign-up for our Newsletter and be the first to learn about our new releases, upcoming events, winery news and more. The best way to keep in touch is to sign up.