Founded by Ellie Anest and Aurelien Roulin, Eleven Eleven Wines was built on a shared passion for an enriching life with friends, culture, great food, and wine. As friends, Ellie and Aurelien envisioned creating a brand that celebrates the everyday moments that make life extraordinary.
How Ellie and Aurelien met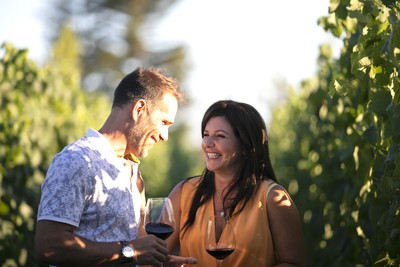 The pair met in circumstances that, in hindsight, seem fated: onboard an international flight. Their in-flight conversation sparked an immediate connection, highlighting a shared entrepreneurial spirit and aspirations. Over time and many more conversations about work, life, and dreams, a lifelong friendship grew. They weren't sure how or when, but they were certain they would create something special together.

When Ellie and Aurelien first met they shared many common interests, including a strong work ethic, positivity, openness to trying new things and, of course, wine. With these qualities, they decided to begin their working partnership with a real estate investment alongside Ellie's lifelong friend, Carol Vassiliadis. Out of pure coincidence, the land they purchased had a world-class vineyard on it. Shortly after, Aurelien connected with Kirk Venge - a friend and now winemaker for Eleven Eleven. Kirk, a coveted Napa third generation winemaker, serendipitously took on Eleven Eleven as his eleventh consultancy.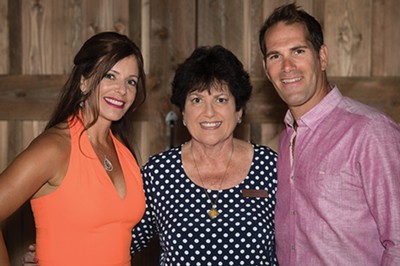 As the Eleven Eleven vision came into focus and with Carol on board, she offered her expertise and support. Carol's business acumen, sharp aesthetic, and an artful eye for detail have given Eleven Eleven a special polish and poise. She supports many philanthropic endeavors of the winery and understands the complexities of merging business with pleasure, making Eleven Eleven as much a hospitality experience as it is a wine experience.

Why they chose the name "Eleven Eleven"
Aurelien describes the process by which he and Ellie chose the name "Eleven Eleven:"
"We chose the name 'Eleven Eleven' to represent the meant-to-be-moments in life that are worth celebrating. Just like looking at a clock at precisely 11:11 and feeling something special, Eleven Eleven Wines is the expression and celebration of the idea that what is meant to be will be."

How the winery and tasting room was brought to life
The partnership trio founded Eleven Eleven in 2012. They first acquired Laki's Vineyard, which consists of Cabernet Sauvignon vineyards in the Oak Knoll AVA (American Viticultural Area) and a vineyard house. They then acquired Destin Vineyard in the same AVA that houses 16 acres of Syrah, Riesling, Merlot, and Malbec grapes, collectively. 2012 was the first harvest of the Laki's Vineyard Cabernet, and winemaker, Kirk Venge, also joined the Eleven Eleven team as Winemaker.
In 2013 the partners acquired a 12-acre winery estate, also in Oak Knoll, which included an existing winery building. That same year, they began their development of wine production capabilities.

2014 was a particularly exciting year as the first Eleven Eleven wine was bottled – the 2012 Laki'sVineyard Cabernet, which later received a 90-point rating from Wine Enthusiast. The production facility opened in 2014 as well where they began making both Eleven Eleven and custom crush client wines. Construction on tasting room also began in this year.
In 2015 the team excitedly opened the tasting room and launched Club 11:11®, and in 2016 the construction of the 15,000 square-foot barrel hall was completed.

2017 was the year of the first harvest of the Eleven Eleven Vineyard and the first release of their Zinfandel. In 2018, the acquisition of state-of-the-art production equipment allowed the team to increase winemaking capabilities and efficiencies, sending Eleven Eleven Wines over-the-top with their high-quality wines.

Finally, in 2019, they acquired 3 acres of property adjacent to the winery to serve as a potential site for the extension of vineyards and countless new moments to be made.
Eleven Eleven Winery is now a boutique estate with nearly 3,500 square feet of unique indoor and outdoor tasting areas and lush grounds. The property is ideal for truly experiencing your moment and discovering Eleven Eleven wines.
We hope you'll feel inspired to make your moment extraordinary whenever you drink our wines, visit our property, or simply see that special time on the clock. If you'd like to visit us, we welcome visitors by appointment daily from 10am-4pm. Cheers!
We love to share our moments!
Sign-up for our Newsletter and be the first to learn about our new releases, upcoming events, winery news and more. The best way to keep in touch is to sign up.