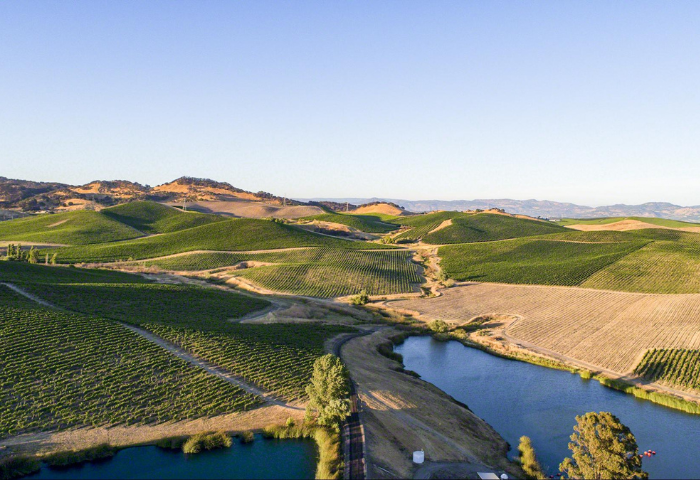 Spring 2023 is officially here, and we could not be more excited to welcome in this season of renewal with a refreshed sense of energy. With warmer weather on our terrace, a selection of new wines to savor, and the start of bud break in our vineyards, spring reminds us that there is always a fresh start waiting just around the corner.
As springtime tends to also bring the first few glimpses into the upcoming harvest season, we thought there was no better time to share a little bit more about our approach, values, vineyards, winemaking practices, and our efforts to lead a more sustainable and organic business model, inside and out.
An Honest Approach
Throughout the course of my career—and well before Eleven Eleven—my entrepreneurial spirit has always prevailed. My roots coming from Nebraska, where my father farmed the land for over 40 years, was where I learned about hard work and the values that come with it—like commitment, perseverance, and excellence. Combined with my years of business experience, strong values, and passion for connecting with people, these traits ultimately laid the foundation for the partnership venture of Eleven Eleven Winery—where, to this day, I instill these very values in each and every bottle of wine we produce.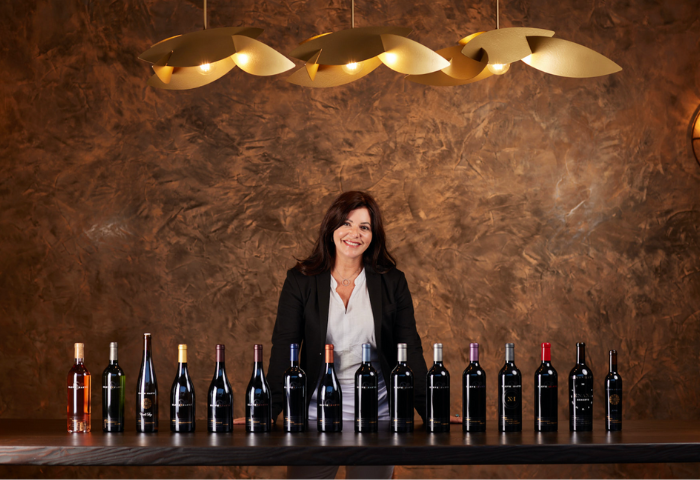 My commitment to quality paves the way in all aspects of our business. From premium customer service to efficient farming practices, through my leadership, we strategically plan for exceptional hospitality in our tasting room and implementation of sustainable and organic programs in our vineyards.
Diversity of land, people, and process is deeply rooted in our core.
Our Vineyards and Farming
Since arriving in Napa Valley in 2012, the three vineyards in the Oak Knoll District AVA of Napa Valley have been farmed with care and intention to produce the best quality fruit–Laki's Vineyard (Cabernet Sauvignon) Destin Vineyard (Syrah, Merlot, Malbec, and Riesling) & Eleven Eleven Vineyard (Cabernet Sauvignon, Petit Verdot, and Cabernet Franc). In collaboration with Winemaker Kirk Venge and Renteria Vineyard Management, we now have three places to literally "establish our roots'' and start building our winery from the ground up. With aligning values, Renteria Vineyard Management embraces innovation while respecting tradition. They believe that family comes first and treat their clients, employees, and the earth with the utmost care and respect.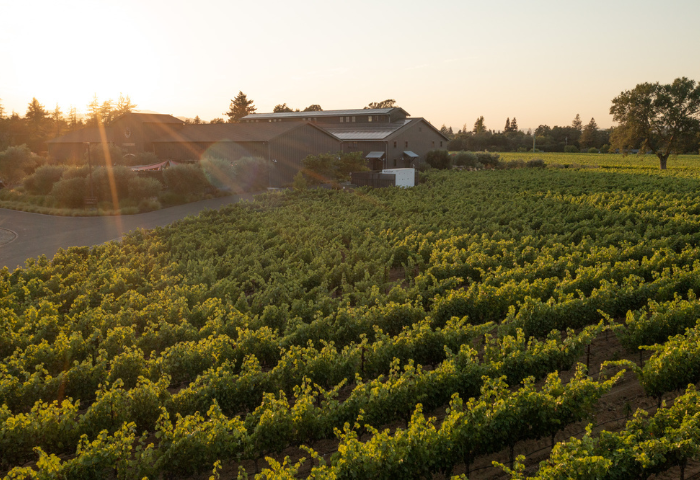 Eleven Eleven Vineyard, which resides alongside our winery and tasting room.
"MY FOCUS HAS ALWAYS BEEN 'VINEYARD FIRST' AND THE ELEVEN ELEVEN VINEYARDS ARE IDEAL FOR PRODUCING EXCEPTIONAL FRUIT FOR A POWERFUL EXPRESSION OF NAPA VALLEY." - WINEMAKER KIRK VENGE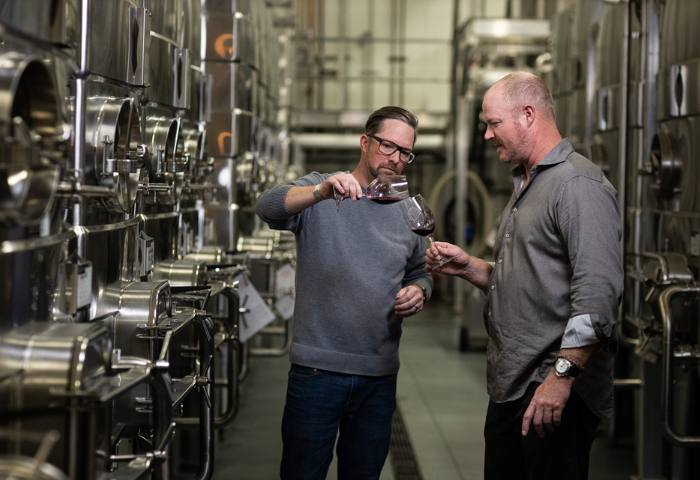 Director of Winemaking Brett Weis (left) and Winemaker Kirk Venge (right) show perseverance, ingenuity, and mastery in their craft by creating our beautifully balanced and elegant wines.
While growing a wide selection of Rhone & Bordeaux varieties on our three estate vineyards, we also source other varieties throughout Napa Valley and Sonoma County. Allowing us to round out our portfolio of wines, outsourcing gives us access to the very best quality of grapes grown in optimal conditions for those specific varietals. These vineyard sources are highly allocated and sought-after throughout wine country—including Beckstoffer, Dutton Ranch, Calesa, Bacigalupi, Saddleback, and our newest addition, Vivio Vineyard.
Replanting—Destin Vineyard
As you may have already seen, we recently released our newest vintage of Rosé of Syrah! Previously sourced from our estate Destin Vineyard, this wine was alternatively sourced from Vivio Vineyard for the 2022 vintage, due to a replanting of our Syrah vineyard last year. Replanting Destin Vineyard has allowed us to diversify our estate varietal selection and refresh the land laying the foundation to implement sustainable organic farming practices.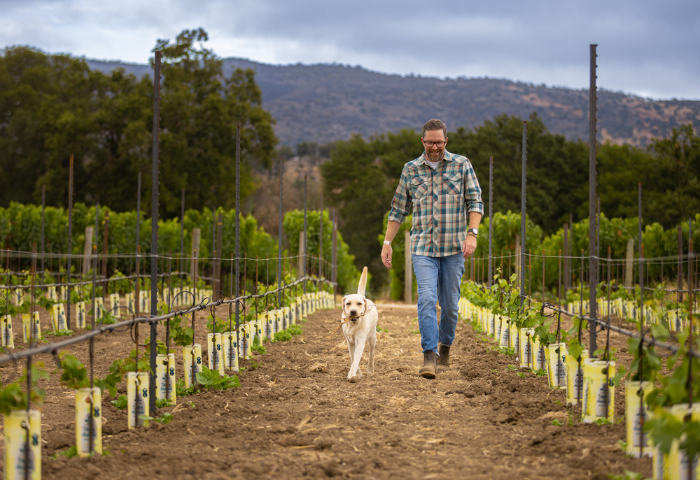 Director of Winemaking Brett Weis and pal, Willa, surveying our newly-planted Syrah grapes at Destin Vineyard.
Sustainable Practices
We are committed to sustainable practices at every level of our business. Our team produces wines as organically as possible, reducing our carbon footprint with fewer tractor passes and carbon-neutral shipping through WineDirect Fulfillment. We also use resources more efficiently with solar power and precise irrigation. We have plans to change our farming practices to further our commitment to organic farming by transitioning each of our vineyards to organic viticulture.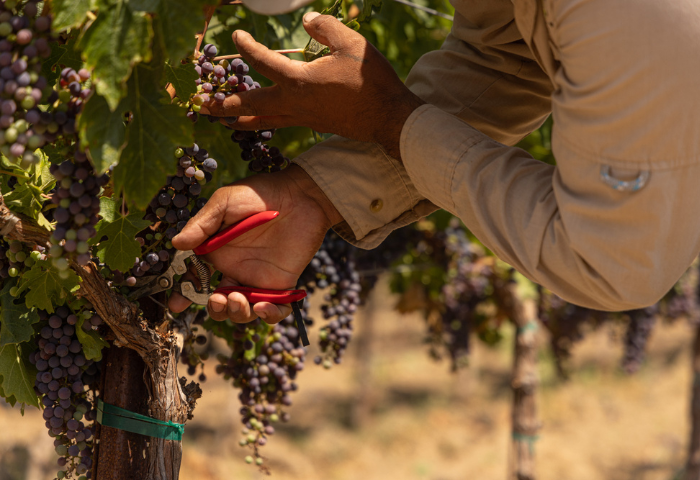 Harvesting our grapes by hand with precision and care, limiting our impact on the soil around them.
Learn more about our environmental stewardship in our blog post: "Celebrating Mother Nature Today, and Every Day."
Natural Beauty In Every Bottle
At Eleven Eleven, we believe the best wines are made with minimal intervention. We take pride in the fact that our wines are made without the use of additives like Mega Purple or fining agents.
"EVERY GRAIN OF GLUCOSE AND FRUCTOSE IS FROM GOD'S GREEN EARTH" - WINEMAKER KIRK VENGE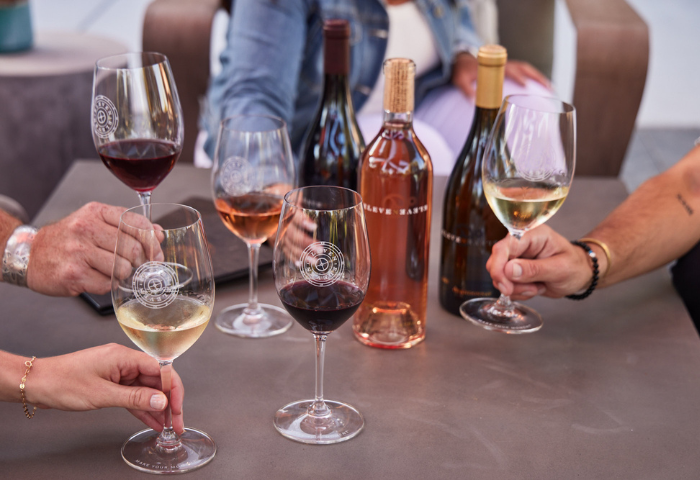 Discover the pure, honest, and natural flavors in our wines.
With care and attention to detail, we allow the natural flavors, aromas, and colors of the fruit to shine through in every bottle. By using minimal intervention and striving to honor and celebrate the natural beauty of our vineyards, we can create wines that truly express the unique terroir of where they're grown.
Springtime at Eleven Eleven Winery
Spring is a time of rejuvenation, and what better way to experience the magic of the season than with a visit to Eleven Eleven? Our vineyards are bursting with life as the grapes awaken from their winter dormancy, and our tasting room is the perfect place to sample our latest vintages.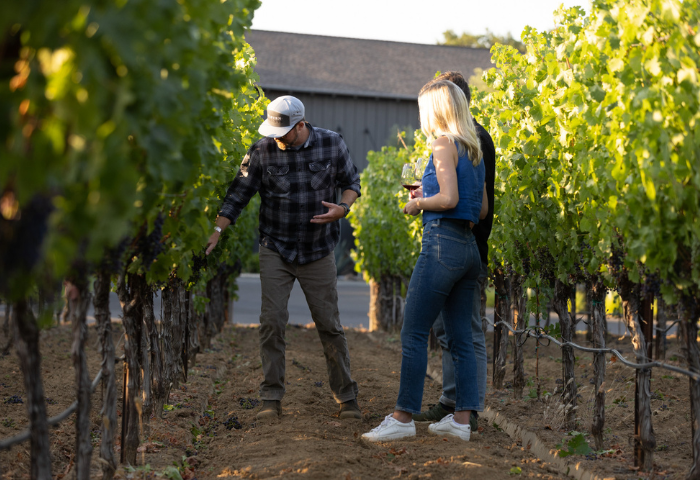 Don't forget to take a look around our surrounding vineyards, as we anticipate new growth!
With stunning views of the surrounding hills and an elegant atmosphere, just 10 minutes from downtown Napa, come visit our estate and Make Your Moment® with us this spring!
We love to share our moments!
Sign-up for our Newsletter and be the first to learn about our new releases, upcoming events, winery news and more. The best way to keep in touch is to sign up.