September 13, 2022 | Ellie Anest
Corporate Gifting, why and why not give any time of the year…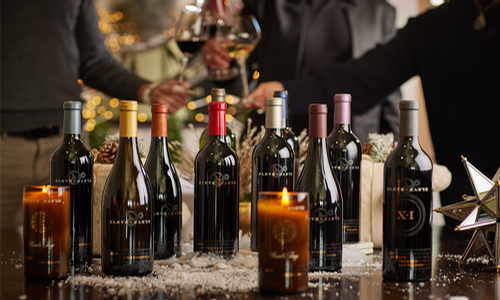 Throughout my professional career, giving a gift to my team or my boss to show appreciation has come in many forms. From handwritten cards to personalized gifts, we all enjoy the surprise gesture to acknowledge our gratitude. This was mirrored to me by my parents while growing up in a small town in Nebraska. They made sure to show their appreciation throughout the year to their employees and the helpers in their lives. This made such an impression on me that it is part of my DNA to create gifting offerings at Eleven Eleven that truly exemplify our motto to Make Your Moment®.
In business, executing your corporate gifting strategy is one of the keys to enhancing relationships with your clients or employees, especially when the gifts are personalized.
The cheer we get from the holiday season doesn't have to happen only in the final months of the year, in fact giving in non-holiday times can have more impact on your clients and employees. Given the changing and evolving work environment, we have experienced these past three years, it is more important than ever to reach out and connect. At Eleven Eleven, I give back to my team in the form of restaurant gift cards, opening up my wine library, or simply via the gift of additional time off.
Our work family is the group of people we spend most of our time with during the week (either in person or on Zoom). Ensuring we don't take them for granted is critical to maintaining a happy team, which hopefully transfers to happy guests or clients. In a world where everything is moving too fast and our brains are racing, it's important to take a step back and reflect on your gift-giving. Gestures and spontaneous gifts are always appreciated when they are sincere. From a psychological, spiritual, and scientific point of view, there are only advantages to continuing to give gifts. Not only are you making someone happy, but you are doing your own spirit, body, and mind a favor as well.
At Eleven Eleven, we make it easy for you by offering a variety of gift options; a personalized bottle of Eleven Eleven wine, a wine tasting gift certificate, and for the non-drinker, a branded cozy blanket, candle or bracelet sends the 11:11 message of being in the moment. You can mix and match any of these items to personalize your gift based on the interests of the recipient.
CUSTOMIZED GIFTING
With a range of different customizations, curate your ideal unique gifts when you choose between our 1, 2, and 3 bottle branded gift boxes, limited edition magnums, custom wine labels, and redeemable gift cards—complete with a personalized note to truly wow your recipients. For an extra touch, explore our unique accessory gifts that wonderfully complement our wines, perfect for hosting elegant soirées or simply cozying up this holiday season.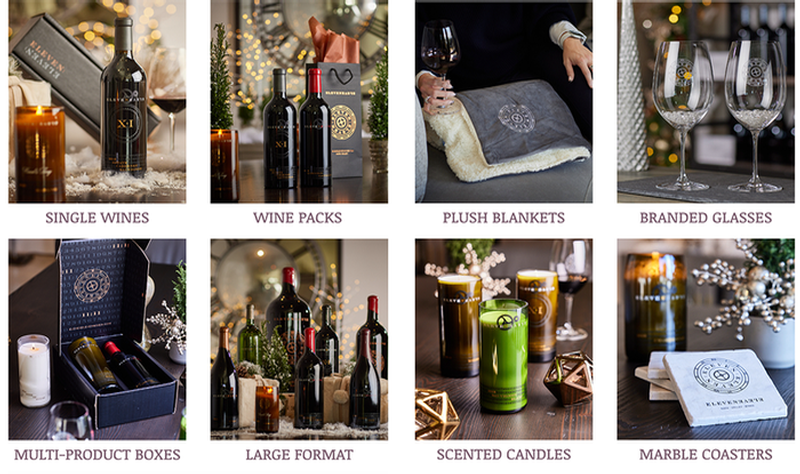 A few of our popular gift boxes are:
The Make Your Moment Box: Includes a bottle of wine of your choice, a branded glass, and a candle accompanied with the most delicious salted dark chocolates.
The 11:11 Unplugged Box: Includes a bottle of wine of your choice, a cozy branded blanket, and a candle, or for your non-drinkers substitute the wine for a hydro flask water bottle.
Wine Duo or Trio Box: Choose wine from our limited production portfolio with a personalized message.
The 11:11 Connect Experience Box: No matter where you and your team live you can have a tasting experience together. Includes a minimum of two bottles of wine for you and your group to enjoy with a one-on-one virtual tasting with one of our Hospitality Ambassadors.
I recommend that you truly get to know your coworkers and clients, which might end up becoming the biggest gift of all. A positive relationship tends to lead to greater enjoyment in business. Boosting someone's morale can improve their experience at work and even add a touch of meaning to their life. Everyone likes to be uplifted and showing that you listen and care about their interests is an easy way to have a positive impact.
Inquire now about our elegant gifting solutions this season. Contact Jordan@1111wines.com for your personal concierge service.
Be well and have fun gifting all year round.
Ellie
Comments
Commenting has been turned off.
We love to share our moments!
Sign-up for our Newsletter and be the first to learn about our new releases, upcoming events, winery news and more. The best way to keep in touch is to sign up.