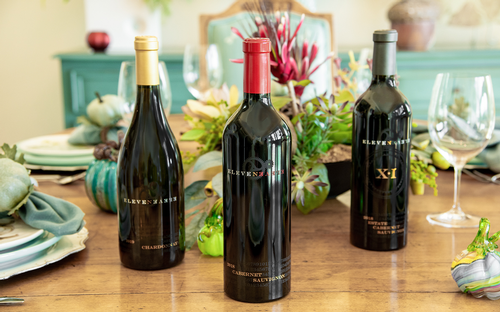 As we head into the holidays, there are sure to be many opportunities to pop open a bottle (or two) of wine. Whether it's at a seasonal gathering, an elegant dinner party, or just a casual night in, you'll want to make sure your wine is at its best—and if you ask us, it all starts with how it's stored.
Need a little refresher on the basics? Keep reading for some Wine Storage 101 — Eleven Eleven style.
Temperature is key.
Wine's number one enemy? Heat. Without the proper temperature regulation, your favorite wines can go from delectable to dreadful. In general, the ideal temperature range is between 45° F and 65° F (55ºF being the perfect go-to). Anything hotter will "cook" your wine, resulting in flat aromas and flavors. And anything cooler can dry out the cork and cause damage over time—most household refrigerators remain around 40° F, so if that's where you typically store your wine, we suggest keeping it short-term.
Keep it horizontal.
Why are wines stored horizontally? It serves more than an aesthetically pleasing purpose, we promise. Keeping wine on its side helps keep the cork moist, which is key for long-term storage, as a dried-out cork can cause seepage and premature aging. Although not necessary for wines with screwtops, or those being planned to be enjoyed in the short-term, horizontal wine storage is still an efficient strategy in itself.
Turn the lights down.
Off, in fact. Whether you're storing it for months, weeks, or days, keep your wine in the dark as much as possible. Light, especially sunlight, can damage wine's flavors and aromas and cause premature aging. Fun fact: one of the benefits of colored glass bottles (such as our own) is to also protect from light—they're like sunglasses for wine!
Recork right away.
While a good bottle of wine should never be hard to finish, you should never feel rushed in doing so. When stored properly, an opened bottle of wine can last 3-5 days. The key is to recork it promptly and tightly to best extend a wine's shelf life and retain its original qualities. While simply sticking the cork back in will be fine for its next few days in the fridge, we suggest upgrading to a wine vacuum pump for the ultimate airtight seal.
Curating your own unique collection can be one of the greatest pleasures of enjoying and drinking wine. But without proper storage, even the best wines can be ruined. All the nitty-gritty specifics may sound daunting, but at the end of the day, just following these few simple guidelines should keep your wines good and safe until you're ready to drink them.
Searching for some elegant and nuanced additions to your collection? Look no further than our latest Current Releases, or maybe even dive into our own cellar of Library Wines over the years. P.S. — they also make for great holiday gifts to friends, family, and colleagues!
We love to share our moments!
Sign-up for our Newsletter and be the first to learn about our new releases, upcoming events, winery news and more. The best way to keep in touch is to sign up.