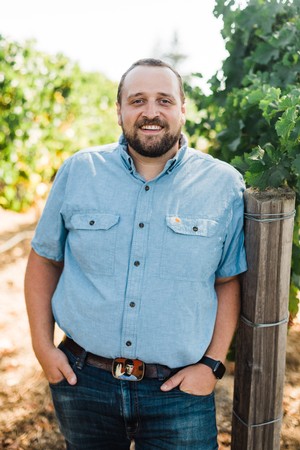 We're in the midst of harvest here at Eleven Eleven! With any harvest, it takes an incredible team of people to come together, work cohesively, and create special wines for you to enjoy throughout the year. With that, we thought this would be the perfect opportunity to take some time and sit down with our Cellar Master, Scott Kirkpatrick, to understand what it really takes to complete a successful harvest. This candid interview is one you won't want to miss!

What does the Cellar Master do at Eleven Eleven?
A large portion of my job revolves around organization and communication. We do a lot of Custom Crush in our production, which means that we process, ferment, and age wines for several different winemakers and clients in the Napa Valley. I am the point of contact between our winemakers and our cellar crew, so I organize and manage all the work that is done throughout the year. I also work directly with our Associate Winemaker, Brett Weis, as well as our Winemaker, Kirk Venge, on making all of the Eleven Eleven wines. Of course, there are many other things that fall into the job like inventory database management, safety training, writing tasting notes for each wine, and much more. There's never a dull moment!

How do you prepare your team for harvest?
There are obvious ways to prep for harvest like cleaning floors, drains, barrels, bins, and tanks, servicing machinery, fixing hoses, etc. All of those things are very necessary and keep us busy in July and August. However, I think the hardest and most important part of preparing for harvest is being prepared mentally. Once the fruit starts coming in, the days start to get long and it can be difficult to maintain one's energy and positive attitude. So, we make sure that we have enough staff and make sure that they are fully aware of the hard work that is to come. Thankfully, Aurelien and Ellie are so good about providing us with resources to help keep us going whether it is a mid-harvest massage, weekly lunch or breakfast, aromatherapy sessions, and more.


What are your main priorities for a successful harvest?
The number one priority is always the continued safety of our employees, as well as making sure they always feel supported and are given the tools they need to succeed professionally and personally. Outside of that, it is all about attention to detail. We have so many fermentations going on throughout harvest (over 150) and each one needs constant attention, so we have to be vigilant 24/7. If we end up with beautiful wines that we and our clients can be proud of, then I would say that it is a great success.

As the first employee of Eleven Eleven, what has been your most memorable moment over the past five years?
There have been so many special moments along the way. From the epic anniversary parties, an earthquake, wildfires, the last five harvests, bottlings, company trips, to even a company dance routine or two, Eleven Eleven is never short on special moments. However, the moments that have been most special to me have been smaller ones where I have been supported in difficult situations, made to feel valued, and accepted as family.

What is your favorite part of the job?
As physically and emotionally challenging as it is, my favorite part of this job, and winemaking in general, is harvest. There is a real beauty to having your life intrinsically tied to the natural world and the growth cycle of vines. The vines work so hard throughout the year to produce and ripen fruit, and we are called to honor that work by the vines (and the people tending them) and make it into incredible wine. With each harvest, we get to be a witness to the constant transformation which still feels very spiritual and magical to me every year. We get to see green growth transformed into fruit, fruit transformed by fermentation into alcohol, and then that alcohol is transformed into a delicious wine through secondary fermentation and aging. It is still thrilling for me to watch and be a part of this natural evolution.
Have you had the opportunity to enjoy the fruits of our labor by joining us for a tasting? We invite you to book a tasting with us and experience the wines we're fortunate enough to create each year through a lively, educational, and elevated tasting. Cheers to another successful harvest!
We love to share our moments!
Sign-up for our Newsletter and be the first to learn about our new releases, upcoming events, winery news and more. The best way to keep in touch is to sign up.