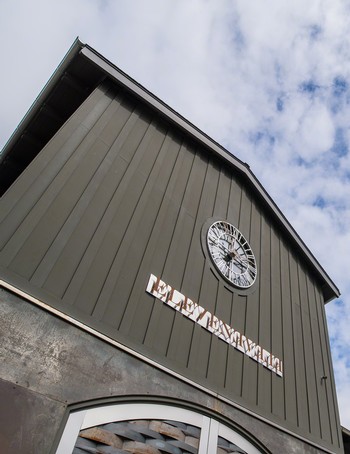 Part of the ethos of Eleven Eleven is about welcoming all people, and this is tied deep into the roots of our brand in more ways than one. There's an extraordinary word in the Greek language, "philoxenia,'' which is commonly used by Ellie Anest, one of our Co-Founders. The literal translation is "love of the foreign." This is about much more than a warm welcome. This word has additional layers of meaning not captured by its English equivalent: hospitality. It's not just "the act of being friendly and welcoming to guests and visitors." It's a code of values with deep roots stretching back to antiquity, one shaped in the ancient tradition of hospitality.
Philoxenia is a state of mind and a way of life with which Greeks nurtured over the centuries. In more recent times, many have applied its principles in business ventures that make up what we are today. Our overarching goal at Eleven Eleven is to create a positive and warm environment so that guests, employees, and business partners all feel a sense of home or an escape, layered with approachability and luxury with friendly hospitality.
But at the end of the day, we're not just passionate about wine and the guest experience (though those are certainly important!). We are equally ingrained in social responsibility and giving back to our community, and contributing to important causes that are near and dear to our hearts. We're so excited to highlight the organizations we make a point to contribute to each year and tell you a bit of why they have become such a priority within our team and our brand philosophy.
Diversity & Inclusion
Diversity and inclusion (D&I) are more than policies, programs, or headcounts. Having a working environment filled with employees of different backgrounds, skills, experiences, and knowledge means that we will have an increase in innovative and creative ideas and contribute to employee happiness.
Countless incredible institutions make this a priority and a few we make a point to contribute to are:
Health & Wellness
The riches of life truly are held in the health of our communities. By supporting health and wellness organizations, we can help people live healthier and happier lives.
Nutrition and Sports/Fitness
Cancer Research
Both Co-Founder Carol Vassilliadis and Ellie's immediate family have been struck by cancer. Research is crucial to improve the prevention, detection, and treatment of cancer, and to ensure that survivors live longer, higher quality lives. A few organizations we feel compelled to support annually are the Leukemia & Lymphoma Society, The V Foundation for Cancer Research, and Kids 'n' Cancer.
Local Community (NorCal & SoCal)
As entrepreneurs and vintners in the Napa Valley, it's our responsibility to support the local community when we can. Eleven Eleven exists today because of the many talents of supporters near and far. The local community has been so gracious and supportive. It is one of our core values to give back and want our local community to thrive alongside us.
Environment
The health of our environment no doubt plays an important role in healthy living and the existence of life on planet earth. Earth is a home for different living species, and we all are dependent on the environment for food, air, water, and other needs.
The ocean produces over half of the world's oxygen and absorbs 50 times more carbon dioxide than our atmosphere. As vintners, we depend on the environment, and our carbon footprint matters when crafting our wine. One Blue Ocean is a newer organization and a global social change non-profit that strives to ensure a healthy blue ocean. They, like us, believe our ocean is essential to all life and that people are the solution to make meaningful change. Their mission is to empower individuals to adopt ocean-positive habits and shift cultural behavior around the world—something we hope you can adopt in your daily life, too!
As we approach the closing of this year and the beginning of next, we hope that our story and ongoing projects will inspire you to incorporate a little more philoxenia into your lives and make each moment extraordinary.
We love to share our moments!
Sign-up for our Newsletter and be the first to learn about our new releases, upcoming events, winery news and more. The best way to keep in touch is to sign up.