April 7, 2020 | Ellie Anest
Eleven Eleven "Eat What You Watch" Series: Our Favorite Wine, Food, and Movie Pairings, Part 2
We love a good wine and food pairing here at Eleven Eleven, and one of our team's favorite cookbooks, Eat What You Watch, takes it one step further by adding a fitting movie to each pairing. While you're safe indoors, continue to pick up a little inspiration for your next wine and food pairing and see Jordan's choice below! Did you miss part 1 where we featured Holly's pairing? If so, check it out, here!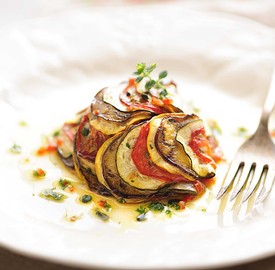 The pairing: Estate Riesling and Confit Byaldi
The movie: Ratatouille
Remy, the exceptionally talented young rat chef in Ratatouille, is propelled to the title of "the finest chef in France" thanks to this vegetable dish he serves to a food critic. The French will be quick to correct you if you were to call Remy's signature dish "ratatouille", though, because the dish in the movie is actually an interpretation concocted by none other than esteemed chef Thomas Keller, who serves as the movie's food consultant. Visually attractive and even more delicious, it softened even the most cold-hearted antagonist into cracking a smile and greedily chowing down.
What Jordan has to say: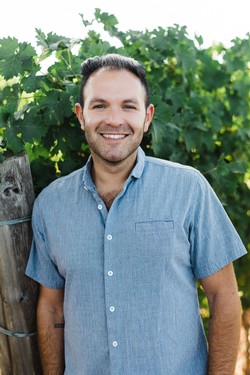 "Not only is the movie 'Ratatouille' fantastic, but so is this recipe with our 2018 Destin Estate Riesling! Confit Byaldi is rich in flavor while also maintaining a lightness to it. The same could be said about our Riesling. It is dry in style with hints of orange zest and citrus. The brightness in acidity works perfectly to complement the Confit Byaldi, allowing the layers of flavors and herbaceousness to shine. This pairing is perfect from start to finish - just like the film 'Ratatouille'."
And, this recipe is especially fun to make with kids. Craft this colorful dish and settle down for a cozy night in and enjoy the meal while watching the movie. It's especially fun to see the Confit Byaldi in the film because you can all say you've tried it, too!
Stay tuned for next week's installation of our "Eat What You Watch" series, where another team member will share their favorite pairing. We hope this inspires you to Make Your Moment® and research some new and fun pairings you haven't tried before. Share your creation with us on Instagram by tagging us @11.11.wines. Bon appétit!
Comments
Commenting has been turned off.
We love to share our moments!
Sign-up for our Newsletter and be the first to learn about our new releases, upcoming events, winery news and more. The best way to keep in touch is to sign up.