April 14, 2020 | Ellie Anest
Eleven Eleven "Eat What You Watch" Series: Our Favorite Wine, Food, and Movie Pairings Part 3
We love a good wine and food pairing here at Eleven Eleven, and one of our team's favorite cookbooks, Eat What You Watch, takes it one step further by adding a fitting movie to each pairing. While you're safe indoors, continue to pick up a little inspiration for your next wine and food pairing and see Jordan's choice below! Did you miss parts 1 and 2 where we featured Holly and Jordan's favorite pairings? If so, check them out, here.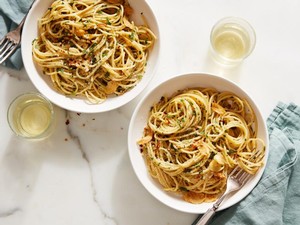 The pairing: Chardonnay and Pasta Aglio e Olio
The movie: Chef
Like food, sometimes movies are greater than the sum of their parts. The movie Chef proved to be a critically lauded gem for foodies. Jon Favreau plays a stubborn chef who decides to carve his own path in the food world by starting a food truck business. But, one of the most memorable dishes from the movie isn't a Cubano he whips up for his customers; it's the Pasta Aglio e Olio he makes for his date, played by Scarlett Johansson. A seemingly simple combination of a few classic ingredients, it's an easy-to-make dish perfect for a late-night, a date night, or any night!

What Joy has to say:

"This dish is one of my favorites because my husband has mastered preparing it and I get to sit back, relax and enjoy. Our 2017 Chardonnay from Dutton Ranch is a great balance with not only the food, which is light yet flavorful, but it's the perfect wine to sip with the dish when it's done or while cooking. As Binging with Babish says, this meal is the perfect example of 'something that is greater than the sum of its parts'. At first glance, the ingredients don't necessarily scream 'Chardonnay', but you will be pleasantly surprised by the magic that is this pairing."

Stay tuned for next week's installation of our "Eat What You Watch" series, where another team member will share their favorite pairing. We hope this inspires you to Make Your Moment® and research some new and fun pairings you haven't tried before. Share your creation with us on Instagram by tagging us @11.11.wines. Bon appétit!
Comments
Commenting has been turned off.
We love to share our moments!
Sign-up for our Newsletter and be the first to learn about our new releases, upcoming events, winery news and more. The best way to keep in touch is to sign up.