October 15, 2021 | Ellie Anest
Halloween Activities + Wine Pairings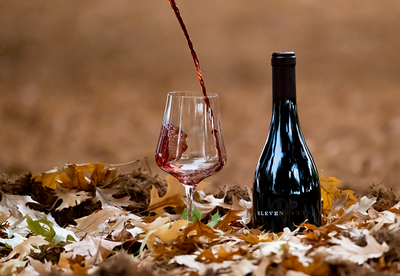 The days of fall sweaters, pumpkin spiced lattes, and hot apple cider are officially here, which means it's almost time for this season's first holiday—Halloween! Although celebrations this year may be limited from the usual get-togethers and wrangling of trick-or-treaters, there are still plenty of activities for you, your family, and friends to celebrate and get the most out of this spooktacular day. Better yet, we have the perfect Eleven Eleven wines to go with them!
Carving Pumpkins — Cabernet Sauvignon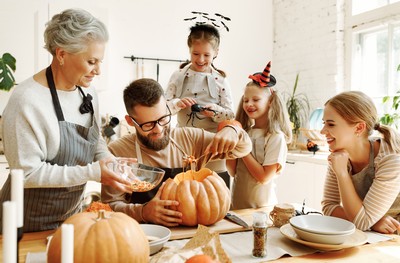 There's no Halloween symbol more iconic than the jack-o-lantern, and there's no seasonal tradition more fun and creative than making them yourself! Carving pumpkins is a sure-fire way to guarantee good times this holiday season, and there are endless ways to go about it. A simple triangle-eyed friendly face, an extravagantly detailed monster, or, for the artists out there, the glitz and glammed paint-on masterpiece. No matter your skill level, amateur or expert, it's more about the journey than the finished product, so just have some fun with it and get your Michelangelo on!
We recommend pairing this activity with our 2018 X∙I Cabernet Sauvignon. Just like the pumpkins you'll be carving, this wine displays approachability, yet simultaneously formidability, with all the heft and structure to last.
Making Caramel Apples — Sauvignon Blanc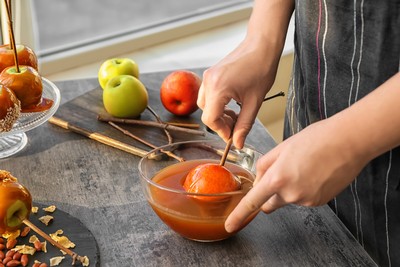 If you're like us, when we think of Halloween, we think of sugar! Sure, we always love a good Smarties packet or Snickers bar, but if you're in the mood to switch things up this year (because why stop now?), we have the most mouth-watering recommendation for you—homemade caramel apples. The crisp tartness of the apple covered by the gooey sweetness of the caramel is a combination that will have you on the edge of your seat for more, and it's easier to make than you'd think. Check out this Delish article for an easy step-by-step guide. It's a great activity to do not only during Halloweentime but also during the Fall in its entirety, so you can enjoy this delicious treat all season long!
To bring out the flavors even more, our suggested pairing is with our 2020 Beckstoffer Sauvignon Blanc. Awakening the senses with its flavors of crisp green apples, it will wonderfully complement your baking adventure.
Tell Scary Stories — Riesling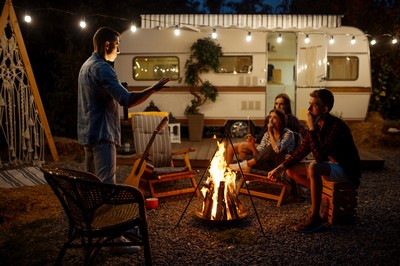 While this one's not for everyone, telling scary stories is a Halloween activity sure to get you right into the spooky spirit. If you don't have one your older brother used to torment you with as a kid to whip out of your pocket, check out these ideas to get the inspiration flowing and the heartbeat racing. These are best served around the campfire to add to the intensity (don't forget the flashlight!).
Have a glass of our enchanting and uplifting 2019 Destin Estate Carol's Song Riesling in hand for this activity to help soothe the nerves!
Have a Halloween Movie Marathon — Zinfandel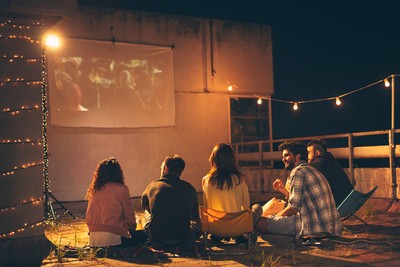 What better way to celebrate Halloween than on the big screen? From kid-friendly films like Halloweentown, It's a Great Pumpkin, Charlie Brown, and Twitches, to cult classic favorites like Hocus Pocus, The Rocky Horror Picture Show, Ghostbusters, and The Addams Family, and even (for the not-so-faint-at-heart) horrors like Carrie, The Shining, and A Nightmare on Elm Street, there's no better adventure than diving into mysterious realms of cinema!
Uncork a bottle of 2018 Moss Creek Old Vine Zinfandel for this relaxing (or not) night in. It's the perfect movie companion to keep those ghosts at bay... liquid courage, anyone?
DIY Halloween Costumes — Pinot Noir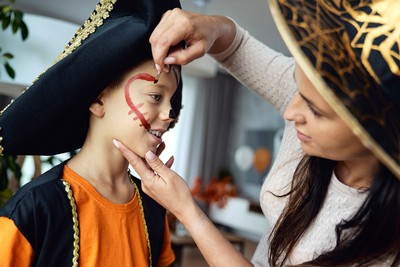 Last but not least, the best part about Halloween—costumes! While some of us like to go big or go home, dressing up for Halloween can also be as simple as it gets, and we always love to do it DIY-style. Fortunately, toilet paper is once again back in abundance this year (thanks, COVID), which means your go-to makeshift mummy costume is back on the table. Looking for less mess and clean-up (not to mention waste)? Go for the classic ghost made out of sheets. Feeling punny? Glue some Smarties onto your jeans, and you're a Smarty Pants! Put off gathering a costume until the last minute? We all know and love Jim from The Office's 3-hole punch self.
For this, you're going to want to make sure you're drinking something just as memorable as your costumes will be, like our 2018 Bacigalupi Pinot Noir. Enjoy its lingering flavors and aromas as you create your masterpiece ensembles!
Whether you plan to keep it a simple night in or go out galavanting around the neighborhood, we hope that you Make Your Moment® with us during this hair-raising, spine-chilling, teeth-rotting season and wish you all a very scary and safe Halloween!
Comments
Commenting has been turned off.
We love to share our moments!
Sign-up for our Newsletter and be the first to learn about our new releases, upcoming events, winery news and more. The best way to keep in touch is to sign up.