July 1, 2021 | Ellie Anest
How to Pack a Perfect Picnic: Featuring Eleven Eleven Wines!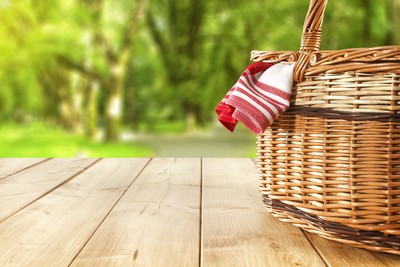 We don't know about you, but we sure missed spending time outdoors together! As we continue to venture out more and more, we've been dreaming of a classic picnic to come together with loved ones over a delicious meal. Whether dining in your backyard or heading out to your favorite park, we want to make sure you're prepared accordingly. From food safety tips to quintessential dishes to pack and the best Eleven Eleven Wines to tote along, treat yourself to some fresh air, fabulous fare, and a beautiful day in soaking up some sun.
Food Safety Tips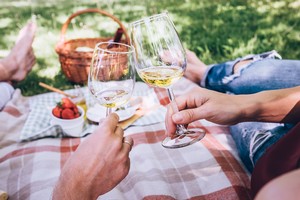 One of our most important tips is to start by packing cold foods straight to your basket or cooler.
Use plenty of ice packs or fill water bottles about two-thirds full and pop them in the freezer a day ahead. They'll keep your food cold and, as they melt, you'll have refreshing ice water.
Skip mayo-heavy salads such as potato salad, which can spoil more quickly in the sun. We opt for bean, grain, or pasta salads with vinegar-based dressings.
For food safety reasons, none of your perishables should be out of the cooler for more than two hours.
Handy Items to Pack
This ultimately goes without saying, but don't forget to pack the following items to ensure you're picnic ready! Some may not be necessities, but your picnic will feel more comfortable with them in tow.
A big picnic blanket or two, and ideally ones you won't worry about if something spills on them. For those who might have accessibility issues or discomfort sitting on the ground, a chair (preferably foldable, that can be carried in a bag) is a must.
Reusable plates, unbreakable cups or wine glasses (we love GoVino!), and real silverware (or disposable plates and silverware).
A roll of paper towels or cloth napkins to make things feel a little more elevated. Paper napkins can blow away easily, and paper towels or cloth napkins can serve as impromptu plates for small bites and desserts.
Wet wipes or damp washcloths sealed in a ziplock bag. This one especially applies if you're not going to have running water nearby. No one wants sticky hands!
A small knife wrapped in cardboard for safety and a small cutting board. Or, wrap the knife in a thick kitchen towel and secure it with a rubber band.
Trash bags. Before you leave, it's important to clean up after yourself!
Sunscreen. Even if you plan on sitting in the shade, better be safe than sorry.
Depending on where you live, bug spray could be the key to prevent creepy-crawlies from ruining your time.
Avoid soggy salads and sandwiches by keeping components such as dressings, fillings, and optional extras stored away in separate containers (chilled if necessary) until they're needed.
Our Top Food Picks
Before we get into our recommended pairings, our most important tip is not to pack anything too messy. A few thoughtful choices will mean your picnic spread will be both tasty and low-stress.
Easy Caprese Picnic Sandwiches
The sandwich version of an Italian classic, this simple dish includes tomatoes, fresh mozzarella, and basil which makes an easy filling for a vegetarian picnic sandwich. Pesto, fresh basil leaves, and baby spinach as add-ons make these extra delicious! We love this with a light yet flavorful red wine, which makes our 2018 Bacigalupi Pinot Noir an excellent choice.
Mediterranean Orzo Salad
You'll be pleasantly surprised that just a handful of ingredients can make something so delightful. All you need is orzo pasta, red grape or cherry tomatoes, kalamata olives, plenty of fresh herbs and feta to toss with a simple dressing of extra-virgin olive oil, lemon juice, garlic, and black pepper (don't forget to pack that in it's own container!). With these Mediterranean flavors, we recommend our 2019 Carol's Song Riesling.
Courtesy of Ree Drummond, click here for the recipe.
Apple, Sausage, and Caramelized Onion Frittata
We love this recipe because it's not only easy to bring along in your basket, but each bite of this sweet and savory frittata provides delicious layers of complementary flavors, including tart granny smith apples, meaty sausage, earthy thyme, and sweet caramelized onions. It's also packed with protein, low in carbs, and ready in less than 30 minutes. If you prefer a dairy-free version, swap in almond, soy, or oat milk and omit the cheese topping. With the complexity of the flavors in this dish, we love it with our 2018 Moss Creek Old Vine Zinfandel.
Courtesy of Joy Bauer, click here for the recipe.
Arugula Potato Salad with Orange and Gorgonzola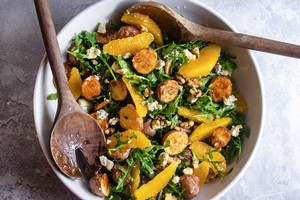 This might not be the typical "potato salad" that comes to mind, but we can't get over how lively this is! Roasted baby potatoes are tossed with arugula, sweet orange segments, toasted walnuts, and gorgonzola cheese which results in plenty of great texture. The simple, bright orange vinaigrette ties it all together beautifully. This is a great salad as a side to a lamb or beef course, too; and, it's a colorful addition to your picnic blanket! Savor this with our light, equally fresh 2020 Beckstoffer Sauvignon Blanc.
Courtesy of Giada De Laurentiis, click here for the recipe.
No matter the location of your picnic, Eleven Eleven is there with you to Make Your Moment® wherever you go. Be sure to share your summer adventures with us on Facebook and Instagram!
Comments
Commenting has been turned off.
We love to share our moments!
Sign-up for our Newsletter and be the first to learn about our new releases, upcoming events, winery news and more. The best way to keep in touch is to sign up.