May 8, 2020 | Ellie Anest
Make Your Moment Series Virtual Experience: Episode 1 - Recipes from Joy & Ryan!
Thank you again to all that were able to join episode 1 of our Make Your Moment Series Virtual Experience! By popular demand, special guests Joy Bauer and Ryan Scott have shared two very special recipes with us that were mentioned during this experience: Joy's Protein Bagels and Ryan's Banana Pancakes!
See below for the recipes and instructions:
Joy's Protein Bagels: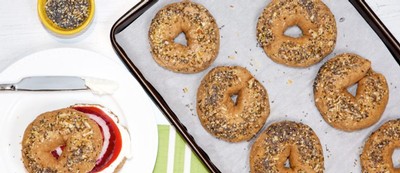 In New York (where I'm from), bagels are a way of life—and they're totally delicious. But let's face it, these doughy delights are typically made with refined, junky white flour, are void of nutrition, and can set you back more calories and carbs than you care to count—and that's before you spread on your topping of choice. These better-for-you bagels pack 10 grams of protein, 4 grams of fiber, and a whole host of vitamins and minerals. That's because they're made with whole-grain flour, which contains more fiber and minerals than standard flour; chia seeds, which are filled with fiber and omega-3 fats; and protein-rich Greek yogurt. Now that's a good morning!
Note: These bagels freeze wonderfully. When ready to enjoy, simply thaw in the microwave, slice, and toast in the toaster oven. Alternatively, you can slice them before freezing and place them directly in the toaster oven from the freezer.
Prep time: 10 minutes
Total time: 35 minutes
Serving: 8 bagels

INGREDIENTS:
2 cups white whole-wheat flour
1 tablespoon baking powder
1 tablespoon chia seeds (optional)
1½ teaspoon kosher salt
2 cups non-fat plain Greek yogurt (thicker brands work best)

PREPARATION:
Preheat oven to 350°F. Line a baking sheet with parchment paper and set aside.
Combine the flour, baking powder, chia seeds, and salt in a large bowl. Add the yogurt and mix until all the ingredients are incorporated into a batter. Knead the dough with clean hands until it's dry and elastic (this will take about 1 minute). Divide into 8 balls.
One at a time, roll each ball between your palms and form into a long rope (if it breaks apart, just squish it back together). Lay the rope on the parchment paper and form it into a circular shape, cinching the ends to complete a closed bagel. Leave space between each bagel on the baking sheet so they're not touching.
Dip the tops into any preferred seasonings, if desired.
Place in the oven and bake for 25 minutes. Let cool before slicing.
NOTE: This recipe is from Joy's new cookbook, Joy Bauer's Superfood!
_________________________________________________________________________
RYAN'S BANANA PANCAKES:



INGREDIENTS:
1 cup of Straus milk
2 whole eggs
2 whole over-ripened bananas
2 tsp baking powder
2 tsp baking soda
1 tsp salt
2 cups AP flour
1/2 tsp vanilla

PREPARATION:
Blitz everything in the blender until super smooth for 30 seconds.
Preheat a nonstick pan on to medium heat and pour a 1/4 cup of batter for each cake (I just lightly spray the pan with pan spray and whip it once clean, that's it).
They take around 2 to 3 minutes per side, and you can tell they're ready to flip when you see a lot of bubbles.
I like to cool them on a rack (so they don't steam) that way I can put them in the fridge for the next couple days to eat.
Comments
Commenting has been turned off.
We love to share our moments!
Sign-up for our Newsletter and be the first to learn about our new releases, upcoming events, winery news and more. The best way to keep in touch is to sign up.