Right now, we're all spending a lot more time at home. We know it can feel daunting to plan meals every night, so we wanted to help! We love a good wine and food pairing here at Eleven Eleven, and one of our team's favorite cookbooks, Eat What You Watch, takes it one step further by adding a fitting movie to each pairing.

We thought it would be fun to take this unique opportunity to sift through this book and highlight our team's very own favorite combinations and encourage you to give them a try for a perfect evening spent at home. This will be a multi-part series where you can enjoy some light reading each week, and perhaps pick up a little inspiration for your next wine and food pairing along the way! First up is Holly, Manager, Hospitality & Wine Club.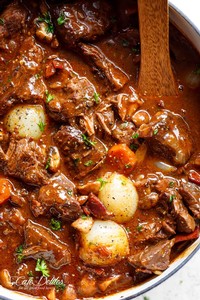 The pairing: Bacigalupi Pinot Noir and Boeuf Bourguignon
The movie: Julie and Julia
Julie Powell, of the movie Julie and Julia, is a food blogger determined to cook through the entirety of Julia Child's classic cookbook Mastering the Art of French Cooking in one year. The climax of this feat is her attempt at boeuf bourguignon, a dish so important and representative of the intricacies of traditional French cuisine that she decides to serve it to her first food critic.
What Holly has to say: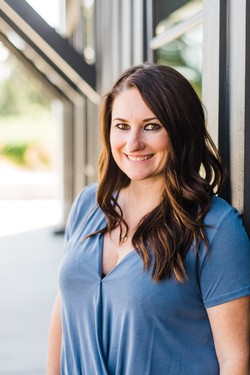 "I chose this dish because I absolutely love Julia Child and love creating anything she has made. We hosted a French-themed murder mystery dinner and cooked this dish for our guests. We served it with the 2017 Bacigalupi Pinot Noir because it
really brings out the soothing flavors of the dish. Everybody at the dinner agreed. This has become my favorite pairing when I want a relaxing evening inside."
Stay tuned for next week's installation of our "Eat What You Watch" series, where another team member will share their favorite pairing. We hope this inspires you to Make Your Moment® and research some new and fun pairings you haven't tried before. Share your creation with us on Instagram by tagging us @11.11.wines. Bon appétit!

Our beautiful 2019 Destin Vineyard Estate Rosé of Syrah is here! We're so excited about this beautiful new vintage, and we wanted to take this opportunity to share the backstory of this ever-popular Eleven Eleven wine with you.
We began making wine in 2012 with Chardonnay, Pinot Noir, Syrah, and Cabernet Sauvignon. Going into our sophomore year we added our Rosé of Syrah, followed by the first vintage of our Sauvignon Blanc in 2014.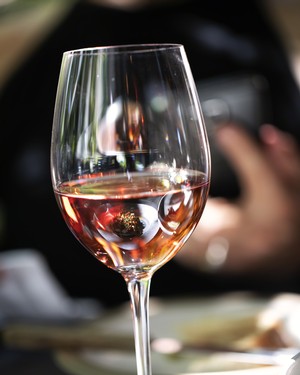 We've been producing the Rosé since 2013, and the Syrah grapes we use for this wine are from our very own Destin Vineyard located in Oak Knoll District of the Napa Valley. We chose these grapes mainly because we're
fortunate enough to have a high-quality Syrah vineyard. It's not only a unique varietal that boasts great acidity and balance, but we also have an affinity for French-style Rosé as one of our co-founders, Aurelien Roulin, is from France and this is one of his Mother's favorites. This varietal is quintessentially French, and we felt like it couldn't be a more perfect fit!
Select vineyard rows are farmed specifically for this production of this Rosé to ensure a balance between acidity, aromatics, and color. Whole clusters are pressed gently to the perfect pale pink hue followed by a cold and long fermentation to lock in the delicate aromatics. We harvest the Syrah fruit early with the intention of producing our Rosé wine. Harvesting early means the grapes are picked at a lower sugar content, which is then fully fermented resulting in a light, acidic and dry Provence-style Rosé.
This wine boasts a nose of rose water, citrus, and white flowers, while layered underneath are hints of strawberry, melon, and rhubarb. This complex bouquet leads to a palate of sprightly acidity and a salty minerality, followed by a lovely array of orange zest and white cherry. Tank-fermented and aged for two months in neutral oak, being from 100% Syrah grapes it's a bright, bold expression of the Napa Valley.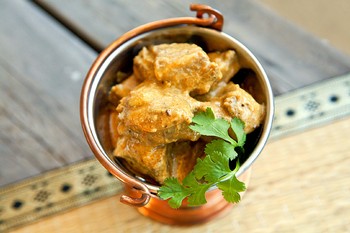 To accompany this vivacious wine, our Rosé has the potential to pair with a variety of dishes. Perhaps the most classic of choices are Rosé and oysters, but if you're looking for a kick, it also pairs beautifully with Indian cuisine with a cream-focused sauce. This is because the fats in the cream absorb and diffuse the high level of spice, bringing the focus to the texture in the slow-cooked meats. We particularly love a lamb korma or tikka masala. If you prefer a more hearty option to enjoy on a rainy day or cool evening at home, for example, lobster bisque complements this wine perfectly because it's a little more full-bodied than white wine and the crisp acidity accents the lobster.
Wherever you enjoy our Rosé, we hope you find it brings you a sense of joy and reminds you of hot beach days with friends, quiet moments stolen away for yourself, or afternoon picnics paired with your favorite summer fare.

At Eleven Eleven Wines, our mission is to be more than a wine brand and tasting room. Our endeavor to better our community and help others goes beyond our winemaking efforts. We are fortunate to be able to give our time, and our wine, in order to promote the welfare of others. This is an integral part of our lives, even before Eleven Eleven was created.
All three partners believe in the importance of having a giving spirit. Carol and Ellie first met through a non-profit organization, Greek Orthodox Ladies Philoptochos Society, Inc., a philanthropic arm of the Greek Orthodox Church. Carol's generous spirit of giving to cancer research, scientific research, arts, and education has influenced both Ellie and Aurelien. As a pillar of our business, we decided that giving back is an integral building block of who we are.
We strive to have a well-thought-out social objective that goes beyond focusing on ourselves. Part of the Eleven Eleven culture and how we get our team involved is taking an interest in and participating in supporting our local community, in addition to larger national efforts. We're excited to share the organizations we currently support with you

Local Support

Napa Valley Vintners Non-Profit Trade Association
This association has been cultivating excellence since 1944 by inspiring its 550 members to consistently produce wines of the highest quality, to provide environmental leadership, and to care for this extraordinary place they call home. Through their industry advocacy and comprehensive member resources, they continuously work to be the voice of the Napa Valley wine industry for consumers, members of the wine trade, and media outlets around the globe.
Queen of the Valley Medical Center

Ellie has been part of the Queen of the Valley Foundation for the last four years and is currently a board member. This foundation raises funds for the Queen of the Valley Medical Center's equipment and facilities while increasing community awareness of the Medical Center's needs. It is an extension of supporting the community that gives back to so many. It's been a true delight to host events on behalf of this foundation at our Napa winery.

National Support

The V Foundation for Cancer Research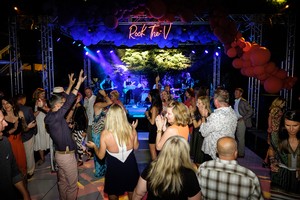 Hosted in the Napa Valley from August 6th - 8th, the Wine Celebration event raises money for cancer research. This foundation was founded by ESPN and legendary basketball coach, Jim Valvano, with one goal in mind: to achieve Victory Over Cancer®. Through advocacy, education, fundraising, and philanthropy, this foundation's event is something we're always very eager and grateful to participate in.
United States Tennis Association (USTA)

One of our founding partners, Aurelien Roulin, is an avid tennis player and fan of the sport. Through his love of tennis, we found it to be a natural fit to support an organization that is the leader in promoting and developing the sport's growth on every level in the United States.

In March, there are two other incredible philanthropic events we look forward to supporting.
Red, White & Snow
Taking place March 5th - 7th in Park City, Utah, Red, White & Snow is the National Ability Center's premier fundraiser. This culinary, wine, and ski festival is among the top in the country and continues to rise in popularity and recognition. The weekend-long event celebrates some of the nation's top chefs and finest vintners. The program offers a unique opportunity for culinary and wine connoisseurs, vintners, and snow sport enthusiasts from across the country to mingle in an extraordinary setting.
American Heart Association Ball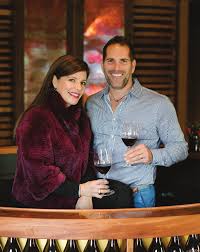 We were introduced to the American Heart Association (AHA) through Paula Kornell, who has been an integral team member of ours since 2012 and actively involved with the AHA for a number of years. This Annual Bay Area American Heart Association Ball is the premier American Heart Association fundraising event that is held on Friday, March 20 at the Four Seasons in San Francisco. The "Heart Ball" supporters help the AHA connect, innovate, influence, and invest in advancing efforts to change health outcomes as they relate to heart disease and stroke.
While it's easy to get caught up in the excitement of winemaking, as a company and community member we're adamant about extending beyond the winery to make a difference. We hope this inspires you to give back to your own community and Make Your Moment ™.

Tradition connects the past with the present and makes us feel at home. Get to know us better as we share our favorite ways to celebrate this holiday of togetherness and gratitude.

Ellie Anest; Eleven Eleven Co-founder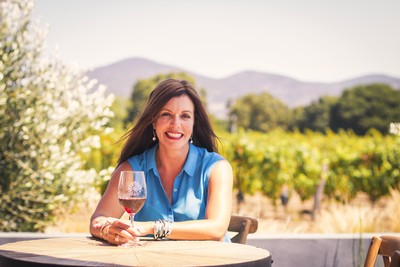 "Growing up on a farm in Nebraska, Thanksgiving has always been a special time for our family and friends to gather and celebrate the hard work from the harvest season - a tradition that has continued even after my family moved to California. Raised in a Greek household, our cuisine, even if it was a typical American meal, was influenced by our heritage whether in the spices we used or the dishes that we included as part of the menu. At Thanksgiving, you can always count on having traditional Greek dishes such as Pastitsio alongside turkey and other traditional delights. This year, I will be enjoying our newest wine release, the "Carol's Song" Riesling, paired with family, laughter and my Mother's Spanakopita appetizer."

Holly Wyatt; Manager, Hospitality and Wine Club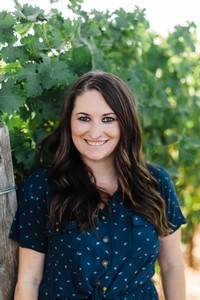 "Thanksgiving is my favorite holiday because I love to host friends and family at my house for a night of gratitude, togetherness, and wine. As part of that tradition, I have been in charge of cooking the turkey for the past ten years and every year I feel it gets better. I start the process the night before by making the brine with herbs, spices and my secret ingredient, buttermilk, while enjoying a glass of Eleven Eleven Syrah. Thanksgiving morning I take the bird out, dry it off and get to work prepping for dinner which obviously requires wine, some Dutton Ranch Chardonnay.
To prep the bird I peel away the skin and rub it with herbed garlic butter, stuff the turkey with more herbs, apples, and cinnamon for aromatics. When it's ready, I wrap it in cheesecloth and put in the roasting pan for a long slow cook. My husband does the honors of carving the turkey for serving paired alongside our Bacigalupi Pinot Noir. The rest of the evening, we toast our blessings and share what each person is most thankful for on this day of gratitude."

Jordan Goldberg; Hospitality and Event Associate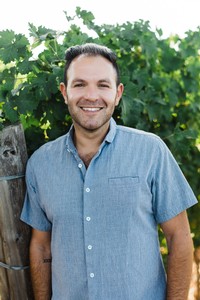 "Growing up as the son of a private chef and event coordinator definitely has its advantages - Thanksgiving being one of them. My mother, Janice Goldberg, has been creating culinary experiences for vintners and their guests for over 30 years in Napa Valley's wine country, even partnering with Eleven Eleven as our resident chef. I am sure you can imagine how decadent Thanksgiving is at the Goldberg residence, but forget the turkey! Every Thanksgiving we enjoy honey baked ham, mashed potatoes and, of course, pumpkin pie! It has also been a tradition of mine for the past few years to open up a magnum bottle of Dutton Ranch Chardonnay and Bacigalupi Pinot Noir - enough to share with everyone! Although they are both fantastic by themselves, both wines are impeccably food-friendly - especially for a Thanksgiving feast!"
Whatever your Thanksgiving traditions are, we hope you have a beautiful holiday filled with good health and happiness, paired with delicious food and wine. Cheers!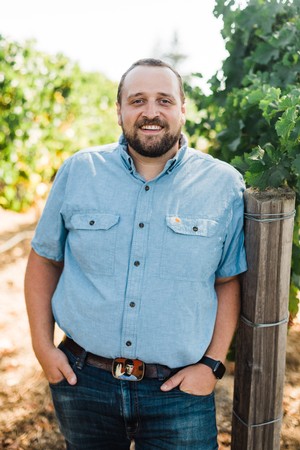 We're in the midst of harvest here at Eleven Eleven! With any harvest, it takes an incredible team of people to come together, work cohesively, and create special wines for you to enjoy throughout the year. With that, we thought this would be the perfect opportunity to take some time and sit down with our Cellar Master, Scott Kirkpatrick, to understand what it really takes to complete a successful harvest. This candid interview is one you won't want to miss!

What does the Cellar Master do at Eleven Eleven?
A large portion of my job revolves around organization and communication. We do a lot of Custom Crush in our production, which means that we process, ferment, and age wines for several different winemakers and clients in the Napa Valley. I am the point of contact between our winemakers and our cellar crew, so I organize and manage all the work that is done throughout the year. I also work directly with our Associate Winemaker, Brett Weis, as well as our Winemaker, Kirk Venge, on making all of the Eleven Eleven wines. Of course, there are many other things that fall into the job like inventory database management, safety training, writing tasting notes for each wine, and much more. There's never a dull moment!

How do you prepare your team for harvest?
There are obvious ways to prep for harvest like cleaning floors, drains, barrels, bins, and tanks, servicing machinery, fixing hoses, etc. All of those things are very necessary and keep us busy in July and August. However, I think the hardest and most important part of preparing for harvest is being prepared mentally. Once the fruit starts coming in, the days start to get long and it can be difficult to maintain one's energy and positive attitude. So, we make sure that we have enough staff and make sure that they are fully aware of the hard work that is to come. Thankfully, Aurelien and Ellie are so good about providing us with resources to help keep us going whether it is a mid-harvest massage, weekly lunch or breakfast, aromatherapy sessions, and more.


What are your main priorities for a successful harvest?
The number one priority is always the continued safety of our employees, as well as making sure they always feel supported and are given the tools they need to succeed professionally and personally. Outside of that, it is all about attention to detail. We have so many fermentations going on throughout harvest (over 150) and each one needs constant attention, so we have to be vigilant 24/7. If we end up with beautiful wines that we and our clients can be proud of, then I would say that it is a great success.

As the first employee of Eleven Eleven, what has been your most memorable moment over the past five years?
There have been so many special moments along the way. From the epic anniversary parties, an earthquake, wildfires, the last five harvests, bottlings, company trips, to even a company dance routine or two, Eleven Eleven is never short on special moments. However, the moments that have been most special to me have been smaller ones where I have been supported in difficult situations, made to feel valued, and accepted as family.

What is your favorite part of the job?
As physically and emotionally challenging as it is, my favorite part of this job, and winemaking in general, is harvest. There is a real beauty to having your life intrinsically tied to the natural world and the growth cycle of vines. The vines work so hard throughout the year to produce and ripen fruit, and we are called to honor that work by the vines (and the people tending them) and make it into incredible wine. With each harvest, we get to be a witness to the constant transformation which still feels very spiritual and magical to me every year. We get to see green growth transformed into fruit, fruit transformed by fermentation into alcohol, and then that alcohol is transformed into a delicious wine through secondary fermentation and aging. It is still thrilling for me to watch and be a part of this natural evolution.
Have you had the opportunity to enjoy the fruits of our labor by joining us for a tasting? We invite you to book a tasting with us and experience the wines we're fortunate enough to create each year through a lively, educational, and elevated tasting. Cheers to another successful harvest!

The marriage of wine and art was paramount when we designed the winery to reflect our shared passion for the arts. When building our winery, we wanted to create an ambiance that stimulated the senses as much as the wine itself. Over the years, we have carefully curated pieces that embody our passion for the art of winemaking to enhance the guest experience. With that, we're excited to introduce our featured artists and celebrate their immense talent.
1. Amy Koumaras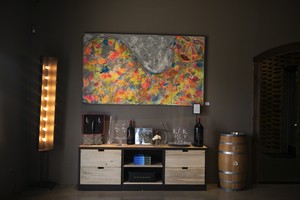 We are thrilled to be showcasing the vibrant paintings of Amy Koumaras in our Napa tasting room. A self-taught, San Diego-based artist, Amy's unique story began as a child. Amy says of her art, "I have been creating my whole life. Growing up I was fascinated watching my mother paint portraits. I loved to sketch as a child for friends. Early on I was interested in designing men's clothing and particularly loved creating classic pieces. I love the freedom and personal expression painting allows me. Painting makes me feel alive and it is quite magical to complete a piece."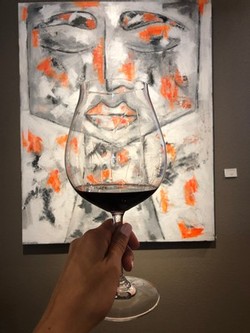 Her early work is centered on the sensuality and strength of the female form. Her "Women" series, shown in several of the pieces on display, reflects femininity in the postures and subtle nuances of the placement of a hand or the tilt of the head.
Amy later turned her attention to abstract work using bold colors to saturate the canvas. From fiery reds and oranges to pensive blues and greens, Amy's work always centers on the many passions of the female spirit.
Ellie Anest, Eleven Eleven co-Founder, met Amy through the San Diego Greek Community and, after realizing that they have family friends in common, developed a lasting friendship. Believing that her artistic style would lend itself to the creative design of the winery, Ellie invited Amy to showcase her paintings. Amy drove from San Diego to Napa with a van filled with her art to meet with Ellie and Aurelien Roulin - Eleven Eleven's co-Founder - who carefully selected pieces to display throughout the property.
2. Michael Holmes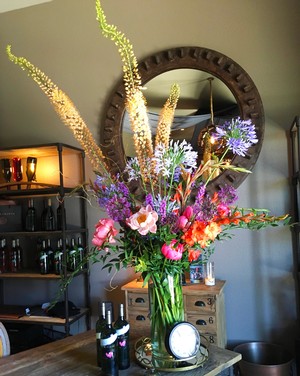 We were so honored to have partnered with celebrated Napa native, Michael Holmes, as our very first featured artist at the winery with a collection of his paintings. Today, Michael's talents are displayed in our Tasting Room through his one-of-a-kind floral designs which allow us to continuously recreate the space with varying sophisticated, dramatic and whimsical arrangements.
Michael's creations span an array of artistic formats ranging from oil painting and sculpting to interior, floral, and event design. Early in his career, the artist community in the Napa Valley recognized Michael's abilities in the art of fine oil paintings, and they took him under their wing, which allowed him to learn from and work with the area's most prominent and recognized artists. Michael has been painting and sculpting for over 45 years.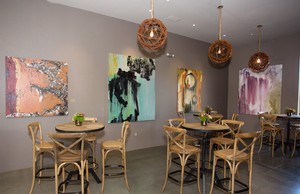 Michael's vast creative energy at an early age also led to his success as a floral and event designer, becoming the proprietor of Napa Valley's most successful and creative floral boutique before graduating high school. Michael's love of fine art, nature, and textures are also a strong influence in his sophisticated but casual lifestyle in interior design. He has a knack for combining the unusual, reclaimed salvage, history, and nature, then creating a fresh aesthetic design that integrates the indoors with the outdoors.
Ellie and Aurelien were introduced to Michael through Aurelien's friends, John and Carol Euser. This serendipitous introduction resulted in a lasting relationship with this talented designer, artist, and businessman, who continues to be a great creative advisor to our winery.
3. Stephen Fitz-Gerald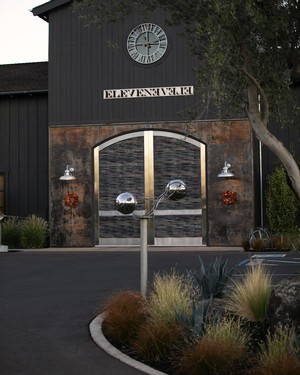 As a result of his collaboration with the winery, Michael Holmes introduced us to the distinctive works of metal sculptor Stephen Fitz-Gerald whom Michael had featured in his gallery.

Stephen's work can be found in the sculptures featured throughout our winery property. His figurative works, though stylized using high-tech materials and construction techniques, retain an ancient flavor that he attributes to an early exposure in childhood to the Greek sculptures of antiquity.
In addition to sculpting, Stephen's works extend to the design and fabrication of functional decorative arts - from furniture to jewelry to outdoor structures, which likewise embrace the intersection between art and wine. He says, "I live in wine country, North of San Francisco amid the bucolic vineyards and quaint pastoral settings which produce that essence so prized by common folk and connoisseurs alike; namely wine . . . There is a predilection of Mediterranean themes here in architecture and ambiance, and viticulture forms a focal point for many of the decorative arts."
4. Aurelien Roulin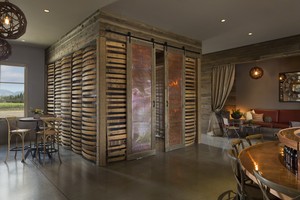 Last but certainly not least, our custom made Stave Room was created by none other than Eleven Eleven's own co-founder, Aurelien Roulin. When we first purchased the winery property, there were many used barrels left behind that inspired Aurelien to repurpose and artistically incorporate them into our interior design.

Each barrel was dismantled, power washed, and treated -- then, like piecing together a puzzle, Aurelien started the creative process by putting a few variations of the staves together to determine our favorite design. He subsequently built a prototype of the stave curtains, sketched a structural design, and constructed and transformed the space into what is now referred to as the Stave Room.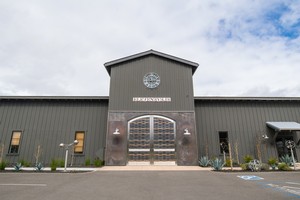 As you move throughout the winery property you will see various ways the barrel stave design is incorporated using different materials, such as metal, on the front winery gate, grand winery doors, and in the barrel hall.
Whether you're a local or visiting us from out of town, we hope you stop in and experience not only our beautiful wines but the thoughtful ambiance we've carefully created to elevate your tasting experience.

You've booked your trip to Napa, now what? There are so many things to do, places to see, food to savor, and wine to drink! How do you choose? We've done some of the legwork for you by putting together our quintessential day in Napa Valley.

Coffee & Breakfast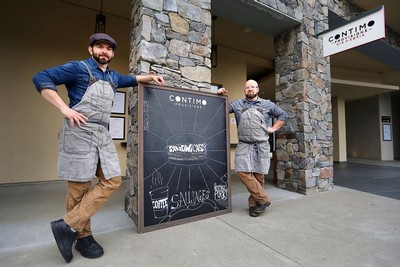 Need a little wake-me-up? Start your morning with coffee and breakfast at Contimo Provisions. Our favorite is the breakfast sausage buttermilk biscuit! Conveniently located in downtown Napa at CIA Copia, this popular spot for locals and visitors alike offers mouth-watering bites to enjoy and fill you up before starting your day.

Wine Tasting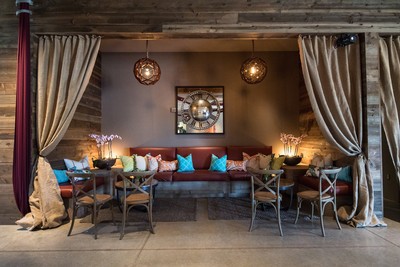 There's no shortage of tasting rooms in Napa Valley. While many venture up-valley for their tasting experiences, downtown Napa has a lot to offer! Our beautifully designed tasting room is the perfect place to start your day. At Eleven Eleven, our passion for enriching life with friends, culture, great food, and wine inspires us to celebrate the everyday moments that make life extraordinary. Our beautiful estate is located just minutes from downtown Napa, but is surrounded by lush grounds and vineyard views. When tasting with us, you'll experience our award-winning, single-vineyard wines and much more through one of our three thoughtfully curated tasting experiences that will entice your senses.
Our 45 minute 11:11 Experience offers a one-on-one hosted tasting of our current signature wines. Sip and learn about our wines that are produced in a classic, artistic style that embodies a belief in the purity and power of the varietal and its terroir.
Looking for something with a pairing and tour to get to know us better? The Copper Experience offers a 1-hour personalized tasting of our current signature wines with a cheese and charcuterie accompaniment, as well as a tour of our working winery by exploring our production facility and learning first hand how our wines are crafted.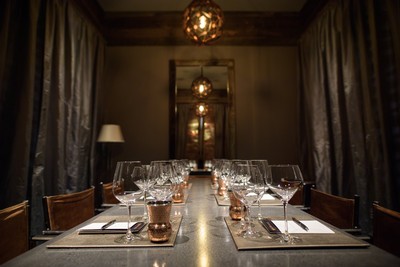 If you want to discover the truest essence of Eleven Eleven with the most well-rounded experience, Make Your Moment® with our elevated 75-minute tasting. Hosted in an elegant private setting, you and your guests will have the exclusive opportunity to savor a vertical tasting of four vintages of our highly celebrated Laki's Vineyard Estate Cabernet Sauvignon, along with other varietals from our portfolio. In addition to past and current vintages, you'll have access to a barrel sample of our newest creation. This experience includes a curated cheese and charcuterie accompaniment, as well as a tour of our winery.
All of our offerings are open daily by appointment from 10:00am - 4:00pm - don't miss us on your journey to Napa! Click here to reserve your experience.

Browsing Downtown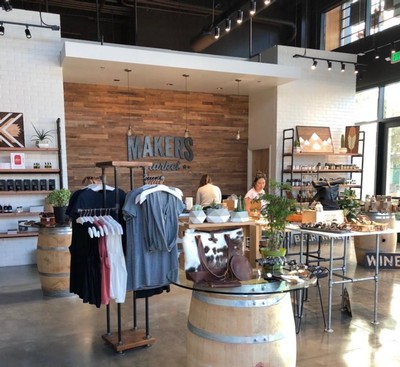 After your tasting, stick around to see what downtown Napa has to offer – there's no shortage of boutiques and fun shops to explore. One of our favorites on First Street is Makers Market. You'll find products that are sustainably made – either reclaimed, recycled, upcycled, or produced with ethically sourced materials. From jewelry to clothing (for men and women!) to home and personal accessories, there are a plethora of treasures to find in this special store. And, with your purchase, you'll not only be helping a Maker live their dream, but a percentage of your sale proceeds are donated to local non-profits with which the makers are affiliated.

Indulge in Dinner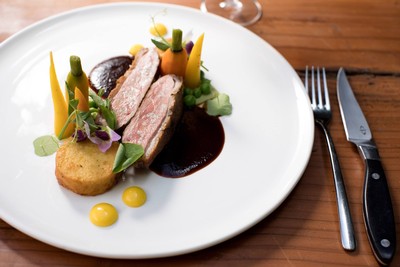 After a day of browsing and shopping, you undoubtedly will be ready for dinner and a drink. There are truly so many delicious options, we couldn't narrow them down to just one! We're lucky enough to have many restaurants that offer various types of cuisine, from Italian to Asian-inspired, classic American to Meditteranean and Vietnamese. We recommend visiting the Downtown Napa website to explore your options. Our personal favorites for flavorful Italian cuisine located on First Street is Oenotri. We love the classic Margherita pizza or linguine with clams! If you prefer a more classic American approach, we recommend Norman Rose. Also located on First Street, this restaurant boasts countless mouthwatering options we can't get enough of. We love to indulge in the 5 Dot Ranch Cheeseburger or Fried Organic Egg Sandwich. And, you can't order a main dish without their Truffle & Parmesean french fries on the side!

After dinner drinks
Once you've had your fill from one of Napa's highly rated restaurants, finish off your night with a drink in a contemporary yet comfortable atmosphere. One of our go-to, late-night haunts is Sky & Vine Rooftop Bar at the Archer Hotel.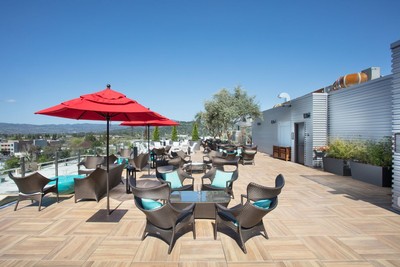 Sky & Vine sits atop one of the most beautiful hotels in Downtown Napa, and with a 180-degree view to boot! This bar offers a wide variety of both classic and trendy cocktails, wine, and beer. They also offer snacks, more substantial plates, and even Sunday brunch if you're here through the weekend. With thoughtfully designed seating areas, a view of Atlas Peak to the east, and up-valley to the north, your time here is sure to be memorable! Feeling playful? They also have cornhole and shuffleboard for some fun and friendly competition.

No matter where you decide to spend your day in Napa, you can't go wrong with our vibrant city's many offerings. We hope you have the opportunity to visit our chic, welcoming tasting room during your visit; or, if you're a local, grab your friends, and experience all we have to offer!

Our winery was founded on a shared passion for enriching life with friends, culture, great food, and wine. With the astute guidance and skill of our Winemaker, Kirk Venge, we craft high-quality, 100% single varietal wines that allow the true expression of the vineyard to shine through. Our grapes are sustainably farmed, and the wines are unfined and unfiltered.
Whether you're enjoying the wines by themselves or with the perfect food pairing, sipping on a glass embracing a moment alone, or relishing in time with friends, our wines are the quintessential way to Make Your Moment®. With that, we're excited to deep-dive into our portfolio of wines!
Destin Vineyard Rosé of Syrah
Oak Knoll District, Napa Valley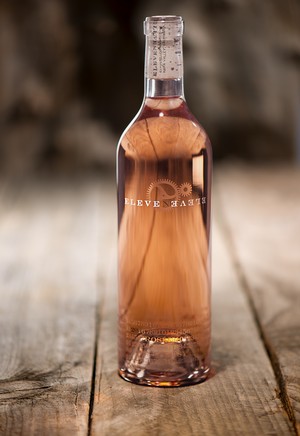 The Oak Knoll District of Napa Valley is home to some of the most iconic vineyards in the world because of the near-perfect weather conditions and terroir. Destin Vineyard was the second vineyard we acquired as a brand, after Laki's Vineyard (more on this below!). For our most recent 2018 Rosé of Syrah, we loaded the grapes into our press and squeezed them gently in order to not give the wine too much color. By picking earlier than we would for our estate Syrah from the same vineyard, we caught the grapes at the perfect moment when there was a delicate balance of acid, energy, and flavor.

In the glass, scents of tangerines, strawberries, and white flowers are invigorating in their freshness. The palate reinforces this with a strong backbone of acidity and flavors of peach and grapefruit zest. It's a beacon to those hot beach days and perfect afternoons spent outside eating your favorite appetizers!

Rutherford Sauvignon Blanc
Rutherford, Napa Valley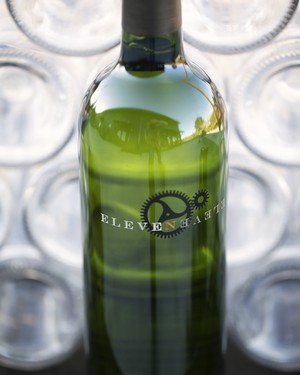 If it's possible for a wine to be fun and serious at the same time, then our Sauvignon Blanc embodies this duality. This bright, vibrant wine captures the essence of summertime. The delicious aromas of key lime and honeydew blend seamlessly with the invigorating scents of fresh jasmine and sweet pea flowers. Its refreshing quality continues on the palate where a focused acidity awakens the senses to find mouthwatering flavors of citrus zest. A beautiful floral quality stays for the entirety of the long finish. Like a long walk through fields of flowers and fruit trees, this wine will lift your spirits!


Dutton Ranch Chardonnay
Russian River Valley, Sonoma County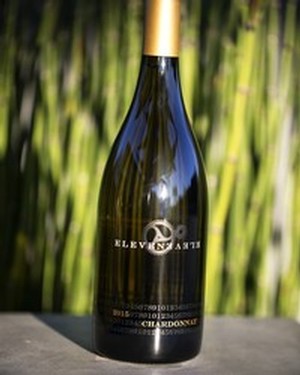 Our Chardonnay quickly became a house favorite due to its concentration and purity. Dutton Ranch, located in the Russian River Valley, is just shy of 15 miles as the crow flies, from the Pacific Ocean. This vineyard is so special because it is dry farmed, and the location allows the wines to show the distinct variation of micro-climates inherent of this famed wine-growing region. On the nose, this wine smells like Anjou pears, fresh herbs, and warm sunshine. Coupled with the mouth-watering acidity of fresh Golden Delicious apples, this barrel-fermented wine boasts an incredible richness that balances out the acidity and delights the palate. The distinct flavor lingers for an extremely long and enjoyable finish, while the bright acidity assures this wine will age well for years to come.

Bacigalupi Pinot Noir
Russian River Valley, Sonoma County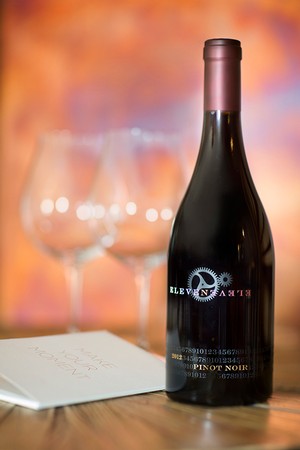 Heart-shaped and roughly 15 miles wide and tall, the Russian River Valley occupies a "sweet spot" that's cool, but not too cold. In the growing season, warm daytime temperatures plummet when fog regularly intrudes from the Petaluma Gap to the south and the Russian River to the west. Our Bacigalupi Vineyard Pinot Noir grapes were fermented without the addition of commercial yeasts, allowing the wine to naturally reveal what is so special about this vineyard. The inviting aromas of cherry pie, black plums, and dried rose immediately please the senses. On the palate, this Pinot Noir accentuates a core of dark fruit and cherry cola blended seamlessly with a soft acidity that extends the pleasure of each sip. This versatile wine is perfect for a gathering of friends whether seated at a formal dinner or around a campfire.


Laki's Vineyard Cabernet Sauvignon
Oak Knoll District, Napa Valley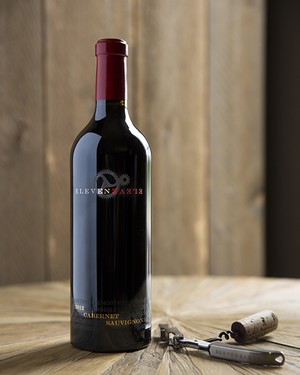 Laki's Vineyard was the first vineyard we acquired under the Eleven Eleven brand. From the powerful wines of 2013 to the low yields and bright wines of the 2015 vintage, each year has its own nuances while maintaining the core of beautiful dark fruit that makes this Cabernet Sauvignon the cornerstone of our portfolio. Multiple layers of lush fruit carry through the palate showcasing flavors of sweet black plums, boysenberry, and pomegranate that are intricately woven together by soft, velvety tannins. With delicious fruit flavors so lavishly displayed, this wine is approachable yet formidable with all the heft and structure needed to age. Whether poured to stand-alone or paired with a hearty meal, this wine is an occasion in and of itself.


Destin Vineyard Syrah
Oak Knoll District, Napa Valley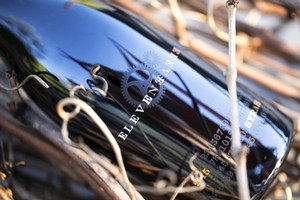 The Destin Vineyard lies at the foot of the Vaca Mountains outlining the eastern edge of the Napa Valley. Each year we designate a few of this vineyard's best rows for our limited production estate Syrah. This dark-hued, multi-dimensional wine invokes aromas of exotic spices and white pepper followed by layer after layer of dark fruit. The flavors on the palate are a bountiful combination of delicious dark fruit with smoked meat, black pepper, and cedar. This gorgeous Syrah slowly unfolds in the glass while the unveiling of flavors and firm tannins allow it to age when cellared properly. Whether poured now or in years to come, this wine makes a lasting impression.
Looking for more? Have you visited our Napa tasting room yet? If you're local or visiting the Napa area, we welcome you to book an appointment in our beautiful, artfully designed tasting room and get the full Eleven Eleven Wines experience. We offer three tasting experiences that make for the perfect way to begin your journey up valley or to visit on the way back into Napa. Our wines are also available for purchase online, here. We hope you have the opportunity to enjoy our wines as much as we do, and we look forward to hosting you in the tasting room!

Founded by Ellie Anest and Aurelien Roulin, Eleven Eleven Wines was built on a shared passion for an enriching life with friends, culture, great food, and wine. As friends, Ellie and Aurelien envisioned creating a brand that celebrates the everyday moments that make life extraordinary.
How Ellie and Aurelien met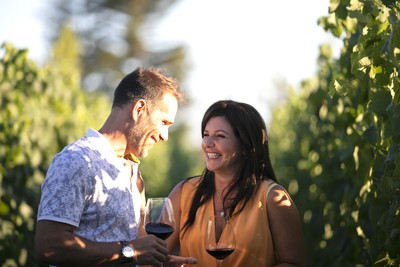 The pair met in circumstances that, in hindsight, seem fated: onboard an international flight. Their in-flight conversation sparked an immediate connection, highlighting a shared entrepreneurial spirit and aspirations. Over time and many more conversations about work, life, and dreams, a lifelong friendship grew. They weren't sure how or when, but they were certain they would create something special together.

When Ellie and Aurelien first met they shared many common interests, including a strong work ethic, positivity, openness to trying new things and, of course, wine. With these qualities, they decided to begin their working partnership with a real estate investment alongside Ellie's lifelong friend, Carol Vassiliadis. Out of pure coincidence, the land they purchased had a world-class vineyard on it. Shortly after, Aurelien connected with Kirk Venge - a friend and now winemaker for Eleven Eleven. Kirk, a coveted Napa third generation winemaker, serendipitously took on Eleven Eleven as his eleventh consultancy.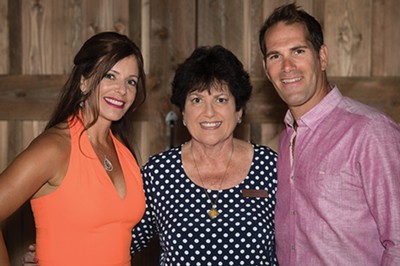 As the Eleven Eleven vision came into focus and with Carol on board, she offered her expertise and support. Carol's business acumen, sharp aesthetic, and an artful eye for detail have given Eleven Eleven a special polish and poise. She supports many philanthropic endeavors of the winery and understands the complexities of merging business with pleasure, making Eleven Eleven as much a hospitality experience as it is a wine experience.

Why they chose the name "Eleven Eleven"
Aurelien describes the process by which he and Ellie chose the name "Eleven Eleven:"
"We chose the name 'Eleven Eleven' to represent the meant-to-be-moments in life that are worth celebrating. Just like looking at a clock at precisely 11:11 and feeling something special, Eleven Eleven Wines is the expression and celebration of the idea that what is meant to be will be."

How the winery and tasting room was brought to life
The partnership trio founded Eleven Eleven in 2012. They first acquired Laki's Vineyard, which consists of Cabernet Sauvignon vineyards in the Oak Knoll AVA (American Viticultural Area) and a vineyard house. They then acquired Destin Vineyard in the same AVA that houses 16 acres of Syrah, Riesling, Merlot, and Malbec grapes, collectively. 2012 was the first harvest of the Laki's Vineyard Cabernet, and winemaker, Kirk Venge, also joined the Eleven Eleven team as Winemaker.
In 2013 the partners acquired a 12-acre winery estate, also in Oak Knoll, which included an existing winery building. That same year, they began their development of wine production capabilities.

2014 was a particularly exciting year as the first Eleven Eleven wine was bottled – the 2012 Laki'sVineyard Cabernet, which later received a 90-point rating from Wine Enthusiast. The production facility opened in 2014 as well where they began making both Eleven Eleven and custom crush client wines. Construction on tasting room also began in this year.
In 2015 the team excitedly opened the tasting room and launched Club 11:11®, and in 2016 the construction of the 15,000 square-foot barrel hall was completed.

2017 was the year of the first harvest of the Eleven Eleven Vineyard and the first release of their Zinfandel. In 2018, the acquisition of state-of-the-art production equipment allowed the team to increase winemaking capabilities and efficiencies, sending Eleven Eleven Wines over-the-top with their high-quality wines.

Finally, in 2019, they acquired 3 acres of property adjacent to the winery to serve as a potential site for the extension of vineyards and countless new moments to be made.
Eleven Eleven Winery is now a boutique estate with nearly 3,500 square feet of unique indoor and outdoor tasting areas and lush grounds. The property is ideal for truly experiencing your moment and discovering Eleven Eleven wines.
We hope you'll feel inspired to make your moment extraordinary whenever you drink our wines, visit our property, or simply see that special time on the clock. If you'd like to visit us, we welcome visitors by appointment daily from 10am-4pm. Cheers!
We love to share our moments!
Sign-up for our Newsletter and be the first to learn about our new releases, upcoming events, winery news and more. The best way to keep in touch is to sign up.